This is an archived article and the information in the article may be outdated. Please look at the time stamp on the story to see when it was last updated.
NEW ORLEANS (WGNO) – New Orleans is no stranger to hauntings.  We're supposed to be one of the most haunted places on the planet, but this is one ghost story that you haven't heard before.
News with a Twist Reporter Kenny Lopez takes us to Tujague's — The second oldest restaurant in the city, which is said to be haunted by ghosts.  One of these ghosts was once a man, who liked to dress up as a woman.
Poppy Tooker, author and Radio Host of Louisiana Eats said there's a real ghost story here!  Her new book, "Tujague's Cookbook" includes recipes, photos, and ghost stories from the restaurant's archives.
This ghost story begins with famous actor of the stage and screen, Julian Eltinge.  Eltinge starred alongside Rudolph Valentino in the silent film, "Aisle of Love", and even had his own cosmetics line.  Tooker said that Eltinge was a cross-dresser, whose alter ego was Vesta Tilley.  He would dine at Begue's Restaurant, which later became Tujague's.  Eltinge autographed a picture and gave it to Madame Begue. The photo hung in the restaurant on the wall since 1917.
In 2013, Mark Latter, the current owner of Tujague's made some renovations to the restaurant.  Latter took down the framed photo of Julian Eltinge and put it in the attic.
Let's fast forward to about a year ago.
A young couple from West Virginia was visiting New Orleans and they ate at Tujague's.  "Ian Wrin and April Russ were dining here and they took a selfie," explained Tooker. "When they got home and looked through the photographs, they noticed something hovering over the diners behind them, with a glowing orb and thought…what is that?!"
Looking around the Begue Room, there are no windows or doors for a reflection to appear.
"That's Julian Eltinge!  That's Tujague's cross-dressing ghost," Tooker said.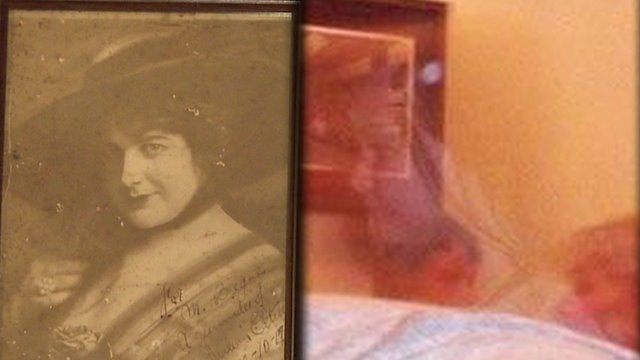 Wrin posted the photo to Tujague's Facebook page and that's when the owner contacted Tooker who was busy working on her book for the restaurant.
"I said, 'Mark, get the photo from out of the attic and hang it back on the wall! The ghost is angry and wants to be back in the room'," Tooker said.
The owner re-hung the photo of Julian Eltinge back on the wall.
"Ever since the photo went back up, the cross-dressing ghost is at peace," Tooker said.
The couple in the photo told Poppy Tooker that they do believe a ghost photobombed them!
Tujague's Cookbook will be released next Thursday, October 29.
For more information on Poppy Tooker and her book, click HERE: