This is an archived article and the information in the article may be outdated. Please look at the time stamp on the story to see when it was last updated.
NEW ORLEANS — Former New Orleans Homeland Security Director Col. Terry Ebbert, who played a key role in the city's response to Hurricane Katrina, is returning to his old job.
Mayor LaToya Cantrell announced Thursday afternoon that she has hired Ebbert, a retired Marine, to serve as the city's director of public safety and homeland security.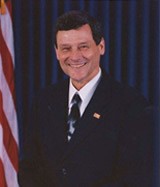 In this role, Ebbert will oversee multiple public safety agencies, including the city's Emergency Medical Services (EMS) and the New Orleans Fire Department (NOFD).
In addition to that, Colonel Ebbert will lead the coordination of the city's widespread public safety response during a major event.
"Public safety is a top priority in the City of New Orleans. Based on the knowledge, experience and expertise of Colonel Ebbert, there is no doubt in my mind that he is the right person at the right time to help move our city forward from a public safety standpoint," Cantrell said in a prepared statement.
Ebbert served as director of homeland security for New Orleans from 2003 to 2008. In the aftermath of Hurricane Katrina, he served as the "incident commander" and coordinated all local, state and federal response for New Orleans.
He has led multiple public safety agencies, including police, fire, emergency medical services, emergency preparedness and criminal justice organizations.
Ebbert retired as head of homeland security in 2008 and started his own consulting firm.
"I'm honored to have the opportunity to have been selected by the mayor for this vital public safety position. I intend to call on my past experience with local, state and federal agencies and their leadership to provide the city of New Orleans with plans, procedures and trained organizations prepared to manage all public safety challenges for New Orleans. I want to promise the citizens of New Orleans that I will do everything within my skill set to earn their trust and respect," Ebbert said in a prepared statement.
Ebbert has served as director of the New Orleans Police Foundation, director of security for the National Strategic Petroleum Reserve and director of security and emergency management for the Department of Energy National Strategic Petroleum Reserve.
Cantrell initially hired former NOPD Chief Warren Riley, who oversaw a troubled NOPD after Hurricane Katrina, to head public safety and homeland security, but she rescinded Riley's job offer after overwhelming public outcry.