This is an archived article and the information in the article may be outdated. Please look at the time stamp on the story to see when it was last updated.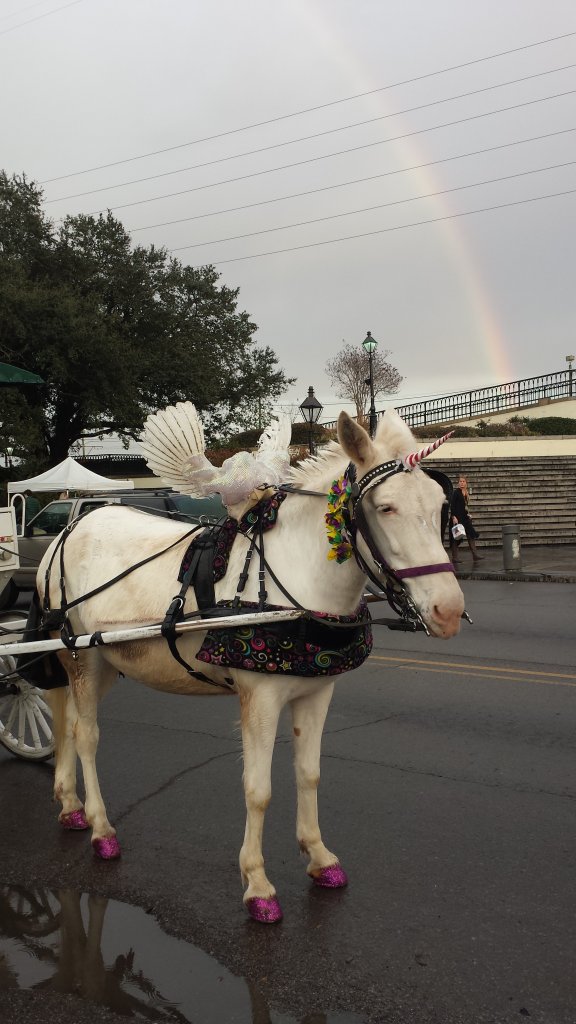 NEW ORLEANS – While many have sought the mythical pot of gold at the end of the rainbow, one French Quarter tour guide recently found something different – a Mulicorn named Claudia.
Kaliecia Smith, who also goes by Sparkles, is a tour guide who drives tourists through the French Quarter in a buggy every day.
Smith said she has always wanted her very own unicorn, so she decided to decorate her favorite mule, Claudia, who pulls her buggy.
Sporting angel wings, a horn, pink hooves, and a little purple green and gold frill to get into the Mardi Gras spirit, Claudia certainly looks the part.
On one recent rainy Saturday as a majestic double rainbow spread across the sky over the Crescent City, Smith snapped a perfect picture of her Mulicorn standing at the end of the rainbow in Jackson Square.
New Orleans has its own particular take on reality, and the French Quarter is where even that odd reality becomes unmoored.
And standing at the center of it all is Claudia the Mulicorn, at the end of the rainbow.