This is an archived article and the information in the article may be outdated. Please look at the time stamp on the story to see when it was last updated.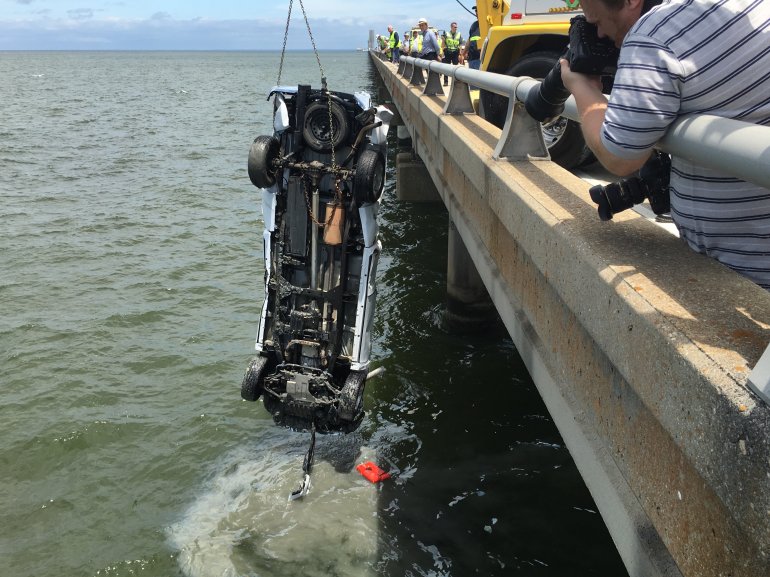 UPDATE: The Lake Pontchartrain Causeway will be shut down around noon Monday, as crews work to recover the truck.
ST. TAMMANY PARISH, La. (WGNO) – The driver who went over the Lake Pontchartrain Causeway Monday morning is OK, according to police. He was transported to St. Tammany Parish Hospital for an evaluation. Authorities say the driver was rescued from the water about ten minutes after an accident sent him overboard.
Causeway police say a collision between two larger vehicles, a Toyota Tundra and Ford F150 sent the Ford into the water.
The crash occurred about 8:15 a.m. in the southbound lanes near mile marker 11.
Causeway police say rescue crews were on the scene five minutes after receiving the call, and the man was lifted from the water ten minutes later. Officials credit the quick thinking of the rescuers and the driver. He was reportedly out of the truck when crews arrived.
No word on what caused the crash.
Both sides of the bridge were closed during the rescue.
Causeway police say this is the 15th overboard accident in the last 20 years. Fourteen of those accidents have occurred on the southbound side of the bridge.
In July, the Causeway Commission proposed a $2 toll increase. The extra money raised would be used to finance safety improvements to the bridge, especially along the older southbound span.
Causeway police are expected to hold a press conference Monday afternoon.
We'll update this breaking news story when more information becomes available. If you saw the accident happened, please send photos or video to pics@wgno.com.