This is an archived article and the information in the article may be outdated. Please look at the time stamp on the story to see when it was last updated.
NEW ORLEANS — The removal of Confederate monuments in New Orleans has been anything but usual, and tonight's protest in front of the Jefferson Davis statue was another testament to just how unusual this entire process has been.
If you drove down Jeff Davis Parkway or Canal Street near the monument, you likely saw Arlene Barnum standing in front of Jefferson Davis, wearing a Confederate flag T-shirt and waving a large Confederate flag.
Barnum is a black woman who lives in Oklahoma, but is from Desoto Parish. She was visiting north Louisiana this week when she heard about the Liberty Place monument coming down overnight in secrecy and heavily guarded.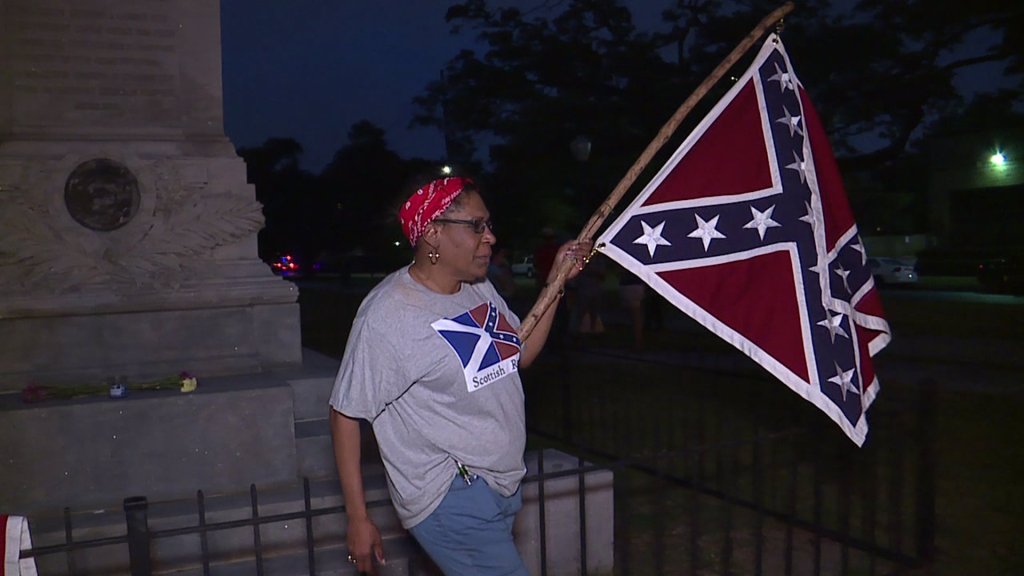 Like many in New Orleans and around the country, Barnum has strong opinions on the Confederate monument controversy. Unlike many black people, Barnum is here because she wants the monuments to stay.
"I felt I needed to be at the (monument) for Jefferson Davis because he was the one and only president of the Confederate States of America," she explains. "He's the most significant of all the monuments to be taken down."
Barnum says her race has nothing to do with her support of the Confederacy.
"It's about being on the right side of history," she says.
Asked what she hopes to achieve with her trip to the monument, Barnum says she'll "stay out until the sun comes up to make sure Jefferson Davis lives to see another day."
The city has said the remaining three Confederate monuments — Jefferson Davis at Jeff Davis Parkway and Canal Street; P.G.T. Beauregard on Esplanade Avenue at the City Park entrance, and the iconic Robert E. Lee at Lee Circle — will come down, but officials will not give details on how or when it will happen, citing safety concerns.