This is an archived article and the information in the article may be outdated. Please look at the time stamp on the story to see when it was last updated.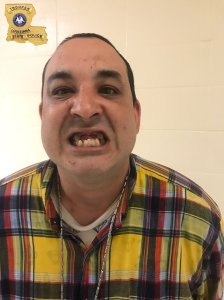 BATON ROUGE – A man pulled over by Louisiana State Police for traffic infractions was arrested for threatening to shoot law enforcement officers.
Forty-two-year-old Melvin Amar, Jr., was driving a Dodge Ram pickup truck with no license plate around 11 a.m. on Gardere Lane near Burbank Drive when a Trooper pulled him over.
Amar was not wearing a seatbelt, he didn't have a brake tag on the truck, and he also lacked insurance documentation.
When the Trooper pulled over the pickup truck, Amar immediately became hostile with the Trooper, issuing several threats against the Trooper's safety.
Amar then "made a hand gesture toward the Trooper depicting a gun and told the Trooper that he would shoot him," according to the LSP.
The Trooper arrested Amar, and the threats continued.
After insulting the Trooper and his family, Amar "made threats to law enforcement referencing the 2016 Baton Rouge Police shooting where three officers lost their lives during an ambush," according to the LSP.
Amar, who was in possession of marijuana and Xanax at the time of his arrest, was booked into the East Baton Rouge Parish Jail on charges of simple assault, two counts of public intimidation, two counts of introducing contraband into a penal facility, possession of schedule i drugs, possession of schedule ii drugs, no seat belt, no inspection sticker, and no insurance.