This is an archived article and the information in the article may be outdated. Please look at the time stamp on the story to see when it was last updated.
There's a million sayings about what makes a home, a home. It's where you gather with your family and friends to create memories. And because of that, it;s important that your home be up to date with the latest and greatest. We've put together a list of items, that will make your life a little easier. Whether it be for your pet, home, or personal well being, we've got you covered with these handy products.
---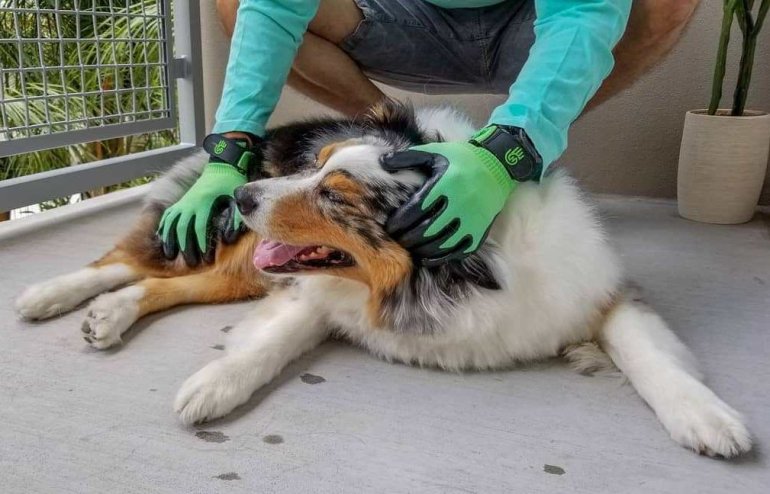 HandsOn Gloves are a revolutionary concept that reaches far beyond the traditional curry combs, mitts and shedders on the market today. Wet or dry, they won't slip or fall off while providing you and your animals with a more thorough and enjoyable bathing and grooming experience.
The gloves are hypoallergenic, being made of tough nitrile, PVC and nylon, giving them the ability to avoid allergenic reactions some people may experience with common rubber or latex glove products. I love that the gloves seem natural to my pets. Not only are they not afraid of the gloves, they almost gravitate towards me, wanting more grooming and petting time. HandsOn grooming and petting allow you to connect with your animals on a level far beyond other grooming products. The scrubbing nodules on the fingers and palms provide a deep thorough clean and are the best de-shedders on the market today. The gloves allow me to easily clean sensitive areas like faces, ears and tight body contours. Another added benefit is your animals hair does not stick to the HandsOn Glove; just a simple flick of the wrist and the hair instantly releases so you can go right back to caring for your animal.
Coming from someone who always have a manicure, I love that my hands and fingernails stay clean while washing my animals. it's also really nice how snjug the glove fits. Wet, dry, soapy, or sweaty, the condition doesn't matter, the glove stays on. And the gloves flexible grip allows me to easily grab a hold of whatever I need to get the job done.
The HandsOn Glove has been a real big help in the grooming of my pets, and I was able to get rid of so many other products that just hadn't satisfied me. If you're a pet owner, I highly suggest you take the leap and get the HandsOn Glove.
---
Big, bright, and beautiful… that's how I would describe the Glammy Vanity. An innovative piece of beauty technology. All Glammy products come with free shipping, a 30-day guarantee, and a lifetime warranty. Available in landscape and portrait, there's a mirror for everyone.
Featuring 10 globed vintage-style LED light bulbs, this Hollywood lighted vanity mirror treats you like the star you are. The bulbs are energy-saving, 24 Volt LED, and dimmable. A one-touch dimmer on/off button allows you to control the brightness for flawless application at any time of day. I love that I don't have to worry about shaking the mirror, as the on/off button is touch, and not push. The mirror can stand alone on any table using the included steel base, or mounted on the wall with included wall mount kit. The options are endless to help create the makeup studio of your dreams.
The vanity is crafted of an all-mirror, optic quality glass surface. Side-mounted accessory outlets allow the user to plug in beauty products of their choice. This includes two wall outlets and two USB ports. Charge your phone, curl your hair, and apply your makeup all in one spot. The on/off switch is dimmable and can be set to any level with just one touch. The five-foot-long power cord offers flexibility during set-up. Out the box and on the wall in less than 30 minutes, the vanity requires very little assembly. The mirror features built-in bulb storage in the back of the mirror, so I suggest having extra bulbs on hand.
The Marilyn Vanity Mirror isn't just gorgeous, it's useful. The lighting allows for flawless makeup applications. The Marilyn is listed online for $389, which is a great deal, compared to similar styles. Add free shipping, a 30-day guarantee, and lifetime warranty, and the Glammy Vanity becomes the best deal.
---
Flat pillow got you down? Let's introduce you to the Gx Suspension Pillow. With the clever installation of the "double X," internal ties, combined with hypoallergenic hollow fiber filling , The Gx Suspension Pillow is the first of its kind to retain much more of its plumped shape all night long!
Relax in superior comfort as your head is gently cradled and supported! Wake up feeling rested without the shoulder and ache pains caused by a flat pillow!
The pillows are available in queen or king size. And all pillows are offered in medium soft or medium firm.
The Gx Suspension Pillow features:
Revolutionary design – first of its kind pillow!
Internal support design that creates a comfortable cradling of the head!
Helps to eliminate neck and shoulder aches and pains!
100% cotton shell
Filled with a hypoallergenic down alternative for uber support!
Receive two queen size, suspension pillows for just $69 with free shipping, and start sleeping better tonight.