This is an archived article and the information in the article may be outdated. Please look at the time stamp on the story to see when it was last updated.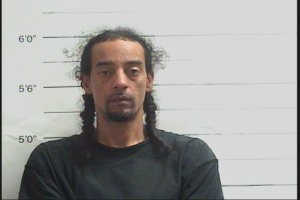 NEW ORLEANS – A 38-year-old man is facing nearly a dozen charges after going on a mini crime spree that began with a carjacking and ended with a domestic shooting and robbery.
Leroy Garrett began his criminal activities when he approached a woman in the parking lot of an Algiers business around 9 a.m. on May 15, according to the NOPD.
Garrett produced a handgun and demanded the keys to the woman's vehicle, but he decided against stealing her vehicle.
Instead, Garrett walked into a nearby business, emerging around 9:30 a.m. to pull his gun on a 53-year-old man in the parking lot.
This time, Garrett hopped behind the wheel of the man's vehicle and sped off.
Just after 10 a.m., Garrett kicked in the door of his pregnant girlfriend's New Orleans East apartment, according to the NOPD.
Once inside, Garrett, who by this time was armed with an assault rifle in addition to the handgun, fired one shot down the hallway of the apartment before kicking in the bathroom door, where the woman was hiding.
He grabbed a cell phone from the pregnant woman's hands and fled the apartment.
A man and woman were also in the apartment at the time.
Ann off-duty NOPD officer arrested Garrett a short time later.
Garrett faces charges of carjacking, domestic abuse aggravated assault, armed robbery with a firearm, two counts of aggravated assault with a firearm, aggravated burglary, aggravated criminal damage to property, illegal use of a weapon, illegal carrying of weapons, and attempted second degree kidnapping.
He has been booked into the Orleans Justice Center.