This is an archived article and the information in the article may be outdated. Please look at the time stamp on the story to see when it was last updated.
NEW ORLEANS (WGNO) – More than 2,700 Entergy customers remain without power in New Orleans East as crews work on restoring power to the areas that were hardest hit by Tuesday's EF3 tornado.
The area without power stretches from Lake Forest through Sherwood Forest to Michoud along Chef Menteur Highway, according to an update released this afternoon by the City of New Orleans.
Approximately 300 Entergy crew members and contractors are working in the area to assess damage, clear debris on roads, and repair the electrical facilities, according to the city.
Power is expected to be restored in the following areas by Friday evening, February 10, 2017:
Castle Manor/Castle Manor East – Area bounded by Gawain Drive, Grant Street, Marque Drive and Chef Menteur Highway.
Donna Villa – Area bounded by Camelot Drive, Dwyer Road, Read Boulevard and Chef Menteur Highway.
Pressburg East – Area bounded by Hauck Drive, Dwyer Road, Nighthart Street, Prentiss Avenue.
Restoration to all of the remaining customers who can receive power is expected to be Saturday evening, February 11. This includes the following areas:
Reed Boulevard East – Area bounded by Wright Road, Bullard Avenue, Dwyer Road and Chef Menteur Highway.
Castle Manor – Area bounded by Gawain Drive, Dwyer Road, Camelot Drive and Grant Street.
Entergy New Orleans will open a Customer Information Center where customers will be able to obtain information on the restoration efforts today at Household of Faith, 9300 I-10 Service Rd., New Orleans East, LA 70127.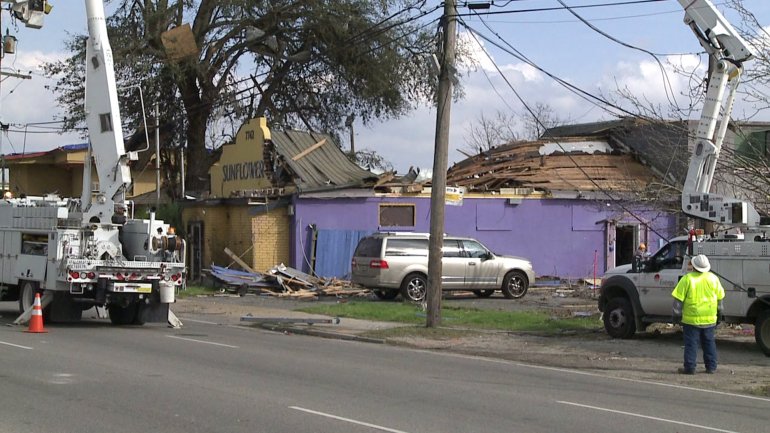 Damage reports include roughly 230 damaged and downed poles, 143 damaged transformers, 50 downed transmission poles, and 207 spans of downed and damaged distribution lines, according to the city.
Entergy customers are encouraged to go to www.entergy.com to sign up for text message updated. Residents may call 1-800-9OUTAGE to report outages or downed power lines.