This is an archived article and the information in the article may be outdated. Please look at the time stamp on the story to see when it was last updated.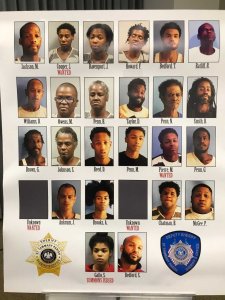 COVINGTON – Twenty-two people have been arrested on drug and firearm charges in the "West 30s" area of Covington.
The area has become a hotbed of criminal activity, according to St. Tammany Parish Sheriff Randy Smith.
"We were asked by community leaders in June of this year to intervene and help remove a dangerous element from this North Covington neighborhood," Smith said. "For two months, I had St. Tammany Parish Sheriff's Narcotics detectives establish surveillance, interview numerous confidential informants, execute undercover purchases, and execute search warrants."
The undercover operation began on July 13 and ran through September 19, according to Smith.
"On Wednesday, September 19, the first search warrant was conducted at a residence on West 31st Avenue, where we seized crack cocaine and a gun," he said. "That search warrant began a round-up that led to the arrests of 22 individuals – all who were charged with drug related offenses. In our ongoing battle against drugs, I can tell you that during our round-up of dealers, cell phones that were seized have led us to obtain another six search warrants that are being executed at this time."
Warrants are still active for four suspects that police haven't yet been able to round up.
"Some of the crack cocaine seized a few days ago by my narcotics officers were obtained within close proximity of a school and playground," Smith said. "These drugs are poison and present a real danger to our children, families and our quality of life. Everywhere that I find a battleground you can rest assured that deputies will infiltrate the area with determination and resolve to rid our streets of dangerous drugs and drug dealers."
Smith said his officers are hard at work cleaning up the West 30s area, and these arrests will go a long way toward taking drugs and guns off the streets.
"Drugs are an evil that we can all unite against, and in St. Tammany we always will," he said.
Citizens who wish to report information about suspected narcotics activity and wish to remain anonymous, may do so by contacting the STPSO narcotics tip line at 888-GO2-JAIL (888-462-5245).