This is an archived article and the information in the article may be outdated. Please look at the time stamp on the story to see when it was last updated.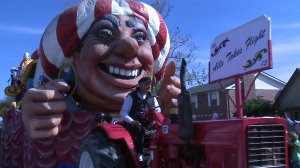 A krewe with 80-year-old roots on the West Bank has decided they are going to parade Uptown from now on. Vanessa Bolano says while residents are not happy the krewe is hopeful the move will keep them afloat.
West Bank resident Guylam Sanders says, "We don't have a whole lot to begin with, you know?"
Some West Bank residents like Guylam Sanders aren't happy when they think of Mardi Gras 2014. It's because the Krewe of Alla has become the latest krewe to ditch the West Bank for Uptown crowds.
"It all comes down to numbers of riders. If you have empty floats then what's the point of putting on a parade," says Krewe of Alla secretary Frank Borne.
Krewe secretary Frank Borne says it all boils down to business. Borne says over the years membership has dwindled. It's gotten so bad he wasn't even sure if they could make it to Mardi Gras 2014.
"Yes, quite possibly; we've really scraped for members the last two, three years and had trouble meeting expenses," explains Borne.
Alla first paraded in 1933. The parade always rolled on the West Bank. Last year Alla rode with about 150 members. Borne says they need at least 350 to put on a quality parade and with a move Uptown he thinks the krewe could eventually grow to 700 riders.
Jefferson Parish Councilwoman Cynthia Lee-Sheng has been passionate about keeping parades in Jefferson Parish. She says a committee is looking at whether moving all Jefferson Parish Mardi Gras events to one weekend would attract bigger crowds. The councilwoman can't pinpoint exactly what went wrong with Alla.
"You need the crowds, and you need the membership, and you need to put on a quality show, and if any one of those three are missing you're going to start struggling," says Lee-Sheng.
Alla will be parading Sunday February 23rd at 1pm Uptown. They're the fourth parade to leave the West Bank joining King Arthur, Choctaw and Cleopatra on the East Bank.
Membership dues are $450.
The next General Membership Meeting is on Thursday, June 6, 2013, 7:00 p.m. at English Turn Country Club, 1 Clubhouse Dr., New Orleans.
For those who wish to ride in Alla on the Uptown route, contact Courtney Barousse, treasurer, at cbarousse1@att.net, Frank Borne, secretary, at fborne@cox.net, or John Beninate, captain, at jabparades@cox.net.