This is an archived article and the information in the article may be outdated. Please look at the time stamp on the story to see when it was last updated.
JAPAN – A major earthquake struck Tuesday morning off the coast of Japan, about 70 miles away from Fukushima, the U.S. Geological Survey reported.
The magnitude was initially reported at 7.3, but the USGS later downgraded the strength to 6.9. The earthquake struck around 6 a.m. local time Tuesday (3 p.m. Central time Monday) 23 miles off the coast of Honshu Island at a depth of about 7 miles. The closer to the surface an earthquake occurs, the more like severe structural damage is at the surface.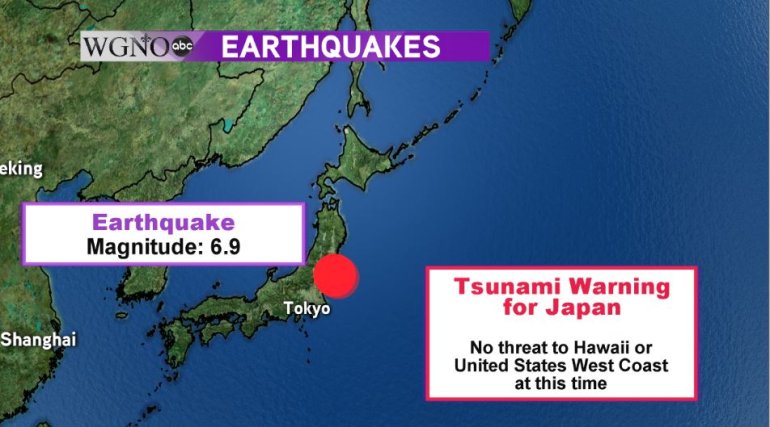 A tsunami warning has been issued along the coast of Japan, according to the National Weather Service. NHK World has a live view here. There is no immediate threat to the U.S. Coastline expected at this time.
It is possible that the tsunami could be between 3 and 10 feet above normal tide levels and residents along the coast are being urged to evacuate accord to the Japan Meteorological Agency as tsunami sirens blare across the coastline.
The country's public broadcasting station is urging not only those along the coastline but also those inland to move to the other side of the island as a 10 ft wave would cause significant damage farther inland. A 2 ft wave has already been reported on the Pacific Coast of Honshu Island.
#fukushima #tsunami pic.twitter.com/efnO1aMSij

— ̘ᴀᴛᴀ ÖZ͎T͎ÜR͎K͎ ✰ (@KURTgibiADAM) November 21, 2016
This is a developing story; refresh for updates.