This is an archived article and the information in the article may be outdated. Please look at the time stamp on the story to see when it was last updated.
NEW ORLEANS (WGNO) – The dog days of summer are behind us (after all it was the hottest summer on record here in New Orleans) and we're almost a full month into the autumn season. So that means we should all be sipping those pumpkin-spiced lattes on the front porch enjoying a chill in the air, right? Wrong. Mother Nature has decided, it seems, that summer should continue to march on. Since autumn started, we've seen five days where we've either tied or broken the record high and another seven days where we missed the record by only one degree.
The reason temperatures are well above average, and near record breaking most days is because an area of high pressure has set up in the Western Atlantic Ocean near the Bahamas. The clockwise flow around the high means our winds are warm/hot and flowing up from the south. This is helping to heat things up, especially at the surface.
This is a typical summer set up, but we don't have the typical summer pop-up storms. Why is that? Well, while the high is giving us some moisture at the lower levels with the southerly winds, the winds higher up in the atmosphere actually aren't coming from the south, they are coming in from the northwest. These northwest winds are much direr and are limiting the amount of moisture and showers have to work with. This drier air also heats up quicker meaning even hotter air in the middle levels of the atmosphere.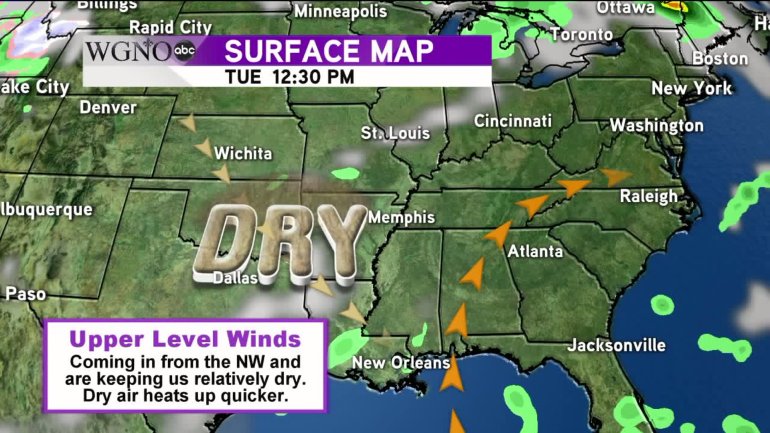 The good news is a cold front is expected to break this pattern down. Arriving late Thursday, the front is expected to sweep though the area and clear out the hot air currently in place. Once the front passes through, expect temperatures to drop by about 15-20°. This means highs will return to the 70s on the North Shore and possibly in New Orleans as well. If New Orleans does indeed top out in the 70s, it will be the first time since May 6 that we've done so.
Morning temperatures will also see the plunge. By the weekend, we'll be waking up in New Orleans in the 50s and possibly even some 40s on the North Shore. So it looks like you might just have the chance to enjoy that morning cup of coffee on the porch with a slight chill in the air in just a few more days.