This is an archived article and the information in the article may be outdated. Please look at the time stamp on the story to see when it was last updated.
NEW ORLEANS — The Atlantic Basin remains very active as Category 5 Irma continues to move westwards with maximum sustained winds of 185 mph.
Tropical Storm Jose continues to strengthen and is almost a hurricane, while tropical depression 13 became Tropical Storm Katia late Tuesday evening.
As of Wednesday, Irma is now tied for the second strongest storm ever in the Atlantic Basin and continues to churn west-northwest in the Atlantic at 16 mph.
Irma's path is forecast to keep it just north of the Caribbean islands, so it doesn't appear that interaction with land will weaken the powerful storm.
Irma will cruise through the Northern Windward Islands and the north shore of Puerto Rico as a Category 5 before possibly slightly weakening to a Category 4 as it approaches Cuba and the Florida Straits.
At this time, the official forecast by the National Hurricane Center predicts a landfall in South Florida south of Miami late Saturday or early Sunday.
The path is still uncertain five days out, but interests in the Florida Peninsula should continue to monitor the storm and heed the advice of local officials.
Most models agree that a trough of low pressure will begin to affect Irma's path later this weekend and push it north and eventually back east towards the Atlantic.
The timing of the trough will be key as it will determine just how far west Irma could make it. We will continue to monitor the storm's path closely in the WGNO Weather Center.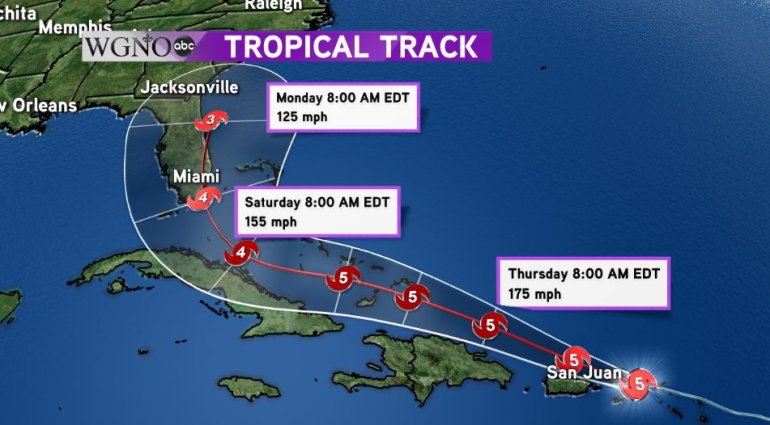 Behind Irma, Tropical Storm Jose continues to strengthen in the far western waters of the Atlantic Ocean.
Jose is forecast to become a hurricane in the next 24 hours, but at this time it looks like the track of Jose will stay farther north than Irma and curve back out into the Atlantic by the same trough that could push Irma back into the Atlantic.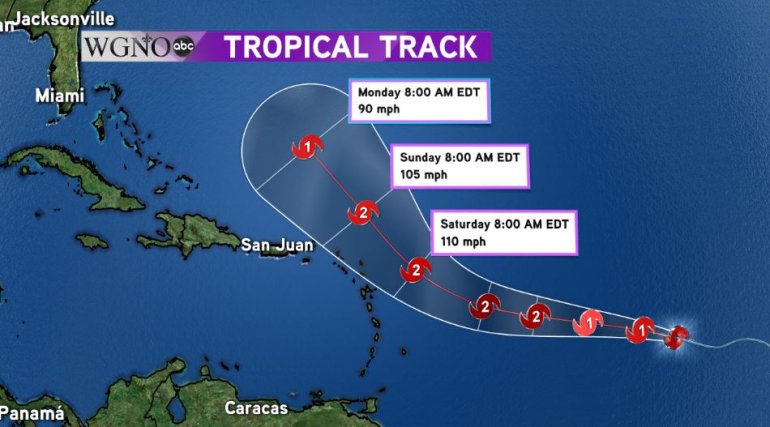 In addition to Irma and Jose, we have Tropical Storm Katia. The tropical storm is located off the Mexican coastline in the Bay of Campeche and is slowly becoming better organized.
It is possible it could strengthen into a hurricane by the weekend.
Right now, it does not appear that the depression will affect the United States.
The official forecast has Katia slowly moving out into the Gulf before making a 180 degree turn and making landfall in Mexico as a low end hurricane or strong tropical storm.