This is an archived article and the information in the article may be outdated. Please look at the time stamp on the story to see when it was last updated.
NEW ORLEANS (WGNO) – Hurricane Nicole continued to speed past the tiny island of Bermuda this afternoon after a direct hit as a Category 3 hurricane.
The eye of the hurricane passed over Bermuda around 10 a.m. Central time as winds were sustained at 120 mph. The island's roughly 65,000 inhabitants haven't seen a hurricane of this magnitude this close to the island since Hurricane 5 back in 1939.
Only 1 hurricane since 1851 tracked within 50 mi of Bermuda at #Nicole's current intensity of 125 mph or stronger: Hurricane 5 on 10/16/1939 pic.twitter.com/PtJhIzdSmK

— Philip Klotzbach (@philklotzbach) October 13, 2016
As trees snapped and power was lost, the island saw a brief break from the torrential rain and winds as the eye passed overhead. The British Territory is accustomed to heavy weather and has a sturdy infrastructure, but a hurricane this intense is rare for the island particularly so late in the hurricane season. In fact, Nicole is the first major hurricane to track north of 30°N since Hazel in 1954.
Beyond Bermuda, Nicole is expected to continue to race to the northeast through the open Atlantic slowly losing force as winds retreat to 75 mph by Saturday. Over the course of the weekend, Nicole is expected to lose its tropical characteristics and transition into  a post-tropical cyclone. Even though no longer classified as a hurricane when this happens, Nicole's maximum sustained winds will be of hurricane strength into next week.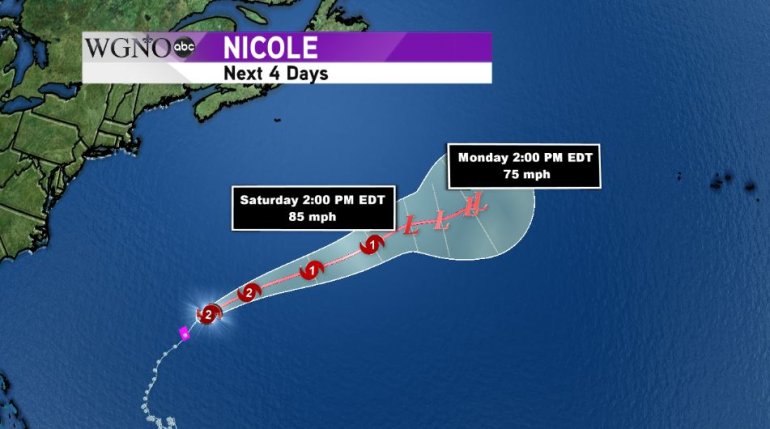 Nicole at its peak was a category 4 storm and wasn't the only category 4 seen in the Atlantic this October. Last week, Hurricane Matthew roared through the Caribbean, Bahamas and up the Florida coastline as it was a category four storm, before weakening slightly as it passed by Georgia and the Carolinas. October 2016 is the only October since record keeping began in 1851 with two category four storms.
As a whole, the 2016 Atlantic hurricane season has had more days with a major hurricane present than 2012 through 2015 combined.
#Bermuda now completely in the eye of Category 3 Hurricane #Nicole pic.twitter.com/Shd6Pn2o1q

— Rob Marciano (@RobMarciano) October 13, 2016