This is an archived article and the information in the article may be outdated. Please look at the time stamp on the story to see when it was last updated.
(CNN) — [Breaking news update, published at 8:49 p.m. ET]
With the eye of Hurricane Matthew pushing north, Miami-Dade County will restart some services, including public transit, on Friday morning, Mayor Carlos A. Gimenez announced. The mayor said evacuation shelters would close Friday.
[Original story, published at 8:16 p.m. ET]
Hurricane Matthew continued its powerful advance toward Florida's east coast Thursday night as the storm's outer bands hammered the state with wicked winds and increasingly heavy rain.
If the storm's wrath isn't enough on its own, the possibility of up to 11 feet of storm surge could leave hundreds of thousands of homes inundated with water and without power.
"We are already starting to see the impacts (from Hurricane Matthew), and it's a monster," Florida Gov. Rick Scott said at an evening news conference. Scott told residents in evacuation zones to go inland. "You still have time to leave. Get out. There's no reason to take a chance."
Officials from Miami to North Carolina don't intend to risk their residents' safety. Residents who aren't under mandatory evacuation orders have been warned to remain vigilant and be prepared to outmaneuver the storm, depending on its track.
Here's what you need to know:
• The storm has killed at least 269 people in three Caribbean countries. The majority, 264 people, died in Haiti, said Civil Protection Service spokesman Joseph Edgard Celestin.
• Matthew remains a Category 4 storm with winds of 130 mph, according to the latest National Hurricane Center advisory. As of 8 p.m. ET, Matthew was located about 75 miles east of West Palm Beach. The center of the storm was moving northwest at 13 mph.
• President Barack Obama declared a state of emergency for Florida and South Carolina.
• Based on the latest projections, Matthew could make landfall in Florida as a Category 4 storm, or it could skirt the coast and head north.
Florida braces for direct hit
Scott told Floridians on the state's Atlantic coast that the question is not whether they will lose power, but for how long.
"There is no reason not to evacuate," he said. "No one should be taking any chances."
A direct hit by Matthew, he said, could lead to "massive destruction" on a level unseen since Hurricane Andrew in 1992. Voluntary and mandatory evacuations in the state stretch from Miami to the Florida-Georgia border.
People who stayed behind stocked up on supplies and boarded up windows, as there were numerous reports of county governments, schools, cruise lines and amusement parks closing. Many residents found long gas lines. But so far, the state isn't running short on supplies, Scott said.
Airline passengers were urged to call before leaving for the airport. Florida airports had canceled hundreds of flights, most of them in Miami, Fort Lauderdale and Orlando. Fort Lauderdale closed its airport, airlines suspended operations in Miami, and Orlando's airport was slated to close at 8 p.m. Thursday, airport officials said.
Palm Beach residents cleared many grocery store shelves ahead of the storm. Yet despite all the warnings, West Palm Beach Mayor Jeri Muoio said not everyone is listening, even with mandatory evacuation orders in place.
"More people are staying than leaving. It's very concerning. When the winds really pick up, we will not be sending (emergency responders) out," she said.
'Hurricane party inside'
In Daytona Beach, Mayor Derrick Henry urged residents against being emboldened by years without a direct hit from a hurricane.
Even so, CNN found Daniel Myara, who has lived in the city for 25 years, barricading his business, Cruisin Cafe, with plywood and screws on Thursday.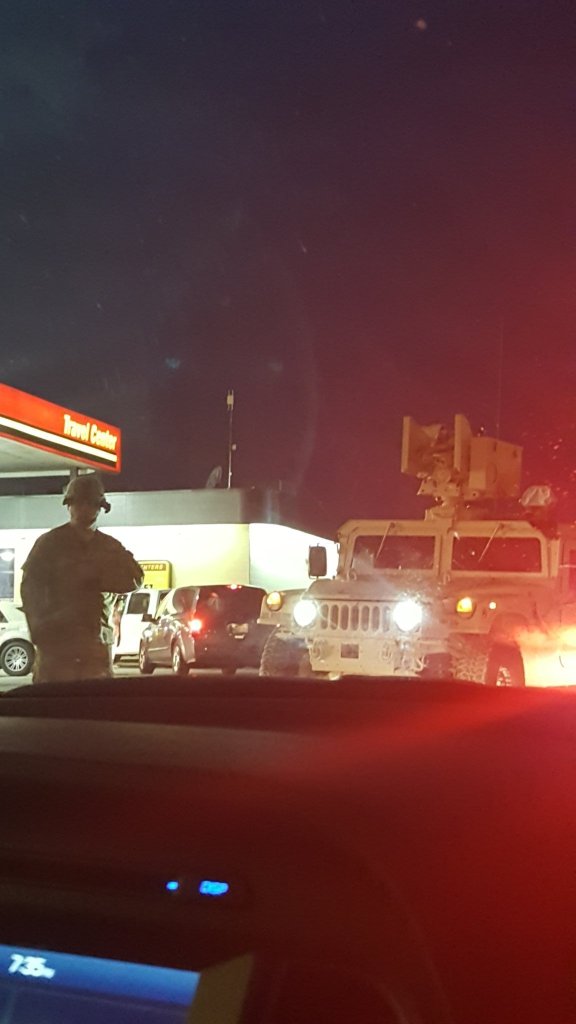 He's not going anywhere. In fact, a sign outside declares his bar open: "Honk for hurricane party inside."
He's been working for three days and in that time has seen the price for a sheet of plywood jump from $15 to $40, he said.
"One thing I forgot to do, I should have bought stock in Lowe's and Home Depot. That would have been nice," he said.
Farther north, in Jacksonville, there were like-minded souls. Esabelle Ramsey, 55, says her brother, Lester, lives in the evacuation zone and refuses to leave.
"He won't listen, so I just brought him some water and food and stuff. I wish he would listen to me," she said.
Nearby, Alice Saulsby, 75, a resident of the area since 1973, says she and her husband are on a fixed income and evacuating would be too costly. So they've stocked up on supplies ands filled up a bathtub with water with which to flush their toilets.
"Everything is ultimately in God's hands," Saulsby said.
Hurricane Matthew pummels Haiti | How to help those affected
Mandatory evacuations in South Carolina
Cars packed highways in South Carolina, where officials gave mandatory evacuation orders for several counties.
Close to half a million people were expected to have evacuated by Thursday, said Kim Stenson, director of South Carolina Emergency Management.
Tempers apparently flared during the slow traffic Wednesday. A man got out of his truck at a detour, removed a traffic cone and sped away. A police chase ended in a shootout that left the man in the hospital, Berkeley County Chief Deputy Mike Cochran said. His condition is unknown.
The South Carolina Department of Transportation changed the directions of eastbound traffic lanes to accommodate the exodus of people leaving coastal cities like Charleston.
As thousands fled inland, some people said they were staying put. Charleston residents boarded up businesses and prepared to hunker down.
Cheryl Quinn said she and her husband were fine a year ago when Charleston endured a brush with a big storm.
"It was kind of a party down here. I hate to say that," she said, but she's reserved a hotel room, just in case.
North Carolina playing it by ear
Gov. Pat McCrory declared a state of emergency for the state's 100 counties. So far, though, no government official in the state has urged residents to evacuate.
"We're just going to have to play it by ear and have our resources ready," the governor has said.
Officials are concerned eastern North Carolina areas that were recently flooded will see more rain from Matthew.
Georgia governor: 'Remain calm, be prepared'
Gov. Nathan Deal has declared a state of emergency in 30 counties near the coast and ordered evacuations for all counties east of Interstate 95.
Of special concern is Tybee Island, a low-lying island east of Savannah, which is also under mandatory evacuation orders. "Remain calm, be prepared and make informed, responsible decisions," Deal said.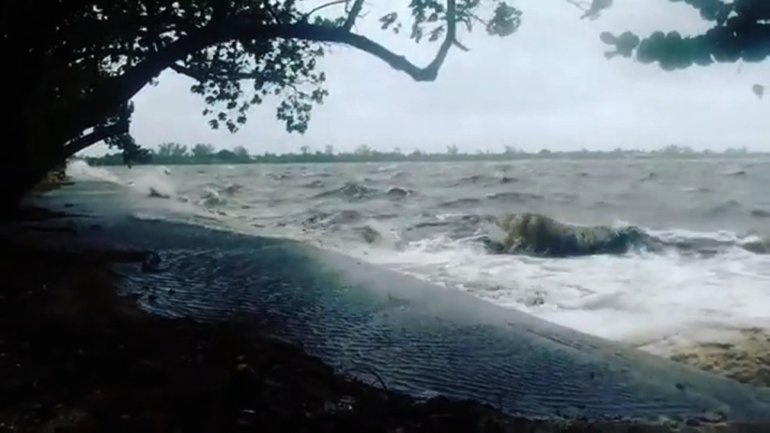 In Savannah, Mayor Eddie DeLoach warned those who stay that they'd be on their own.
"If you decide to ride it out, do not expect us to be there to help you. We will not risk the lives of our emergency responders to save those who refused to heed this evacuation call," he said in a statement.
Atlanta Motor Speedway, which hosts NASCAR races, tweeted that evacuees could set up in its campground.
CNN affiliate WSB reported 20-mile long traffic backups on I-75 northbound, south of metro Atlanta, as people fled the storm.
The Georgia Department of Public Safety closed off eastbound lanes of I-16 before reopening the lanes with traffic flowing westbound from Savannah.
CNN's Steve Almasy, Holly Yan, Stephanie Elam, Rolando Zenteno, Keith Allen, Shawn Nottingham, Alexander Leininger, Tony Marco, Deborah Bloom, Devon M. Sayers, Nick Valencia, Sara Sidner, Jason Morris and Rosa Flores contributed to this report.