This is an archived article and the information in the article may be outdated. Please look at the time stamp on the story to see when it was last updated.
BELLE CHASSE, La. (WGNO) -- Customs and border patrol agents with the Department of Homeland Security are looking for a man from the Philippines who they area calling a deserter.
According to agents, the man was a chief cook on a cutter.  They say the man left his ship saying he was going to wire money to family members in the Philippines.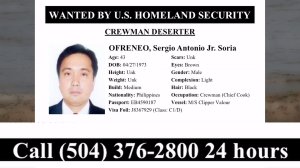 He was last seen on Monday.  Homeland Security workers say the man has a passport and visa.
Anyone with information is asked to call 504-376-2800.  The number is answered 24 hours a day.
Agents say they have no information on his location.  They also have no information on whether he has a criminal background or if he has any other intent.
Homeland Security is the lead agency investigating the case, and while there may be any number of explanations for his disappearance, the man is being called a deserter.
Click at the top of the page to see this latest Wheel of Justice report.
And remember, if you have information on any other crime, you can phone in an anonymous tip to CrimeStoppers at 504-822-1111.  You don't have to testify, and you could be eligible for a cash reward.
So far, more than 300 people have been booked after their cases rolled on the Wheel of Justice.