This is an archived article and the information in the article may be outdated. Please look at the time stamp on the story to see when it was last updated.
Some housing hopefuls are about to get some unpleasant news.
After long waits, and finally receiving Section 8 housing vouchers, hundreds of families will soon find out they're being placed back on the waiting list.
Darian Trotter reports on the exclusive details.
"No it don't surprise me," tenant Keanca Doucet said. "Nothing surprises me that goes on back here with HANO; nothing."
She's frustrated, to say the least, with the Housing Authority of New Orleans.
And given HANO's recent move she can expect company.
More than 700 families who've recently received Section 8 housing vouchers are finding out that they will have to get back in line and wait all over again.
How could this happen? "It's because of budget cuts and because HANO is currently not able to subsidize those vouchers," HANO Public Information Officer Leslie Thomas said.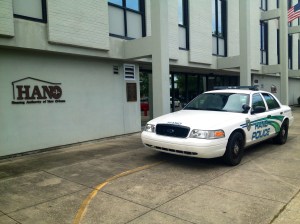 In a letter being mailed to applicants this weekend, HANO explains a number of circumstances, including an over subscription of vouchers and budget cuts are causing recently issued vouchers to be withdrawn effective immediately.
HANO does not have sufficient federal funds to subsidize additional apartments; at the current time, or the near future.
"It's important for me to say the 17,000, plus families who are on the Section 8 program that are currently being assisted and currently have subsidized vouchers are not being effected in any way," Thomas explained.
In other words, only the 700 families who were in the process of finally finding Section 8 housing will have to be placed back on the waiting list in their original order.
WGNO News has learned some of the applicants had been waiting for as long as 4 years.
"I think it's wrong, just like I said the first time," HANO voucher holder Doris Dawson said. "That's not right at all, you know, "What are those people going to do?"
Back at the soon to be demolished Iberville Housing Projects, help from HANO to move out has been slow.
Remaining families have to be out by April 5th.
Trotter asked, "What are you going to do? Aint nothing to do but wait," Doucet said. "They have to put me out cuz I ain't leaving; I don't have no money."
WGNO News has learned families already receiving assistance take priority.
"We have to wait, so they have to wait."
In the letter applicants will receive between Saturday and Monday — HANO apologizes for any disruption or disappointment the withdrawal will cause.