This is an archived article and the information in the article may be outdated. Please look at the time stamp on the story to see when it was last updated.
Drone flight footage provided by Kelvin Williamson
SLIDELL, LA (WGNO) -- Al Prieto loves all kinds of remote controlled cars, boats and anything that flies.  He sells all the latest and greatest r/c gadgets at his store Adrenaline Hobby in Metairie.
Recently, Prieto expanded his business to Slidell and opened an indoor r/c race facility.  It has a dirt track and offers all kinds of party packages for beginners as well as challenging contests for experts.  On most days, it's the four-wheelers making the rounds at his Adrenaline RC Raceway.
But on a recent Sunday before a Saints game, a group arrived at Prieto's indoor facility that didn't have any kind of four-wheeled r/c cars.  They had drones, and they were there to race.
If you've never seen drone racing, you probably will soon and probably on tv.  ESPN has been airing recent contests.  In fact, one of the top names in drone racing is a 19-year-old from Hahnville named Cain Madere.
On this same Sunday, Madere -- who races under the nickname Mad Air -- was among the crowd of pilots preparing to test and hone their skills.
Each pilot brings a backpack full of drones and supplies.  But the one piece of equipment that makes the racing more interesting is the goggles.  You see, each drone has a camera mounted on top of it, and the pilots must fly while wearing the goggles.  Their only view is from the camera's virtual cockpit on board their drones.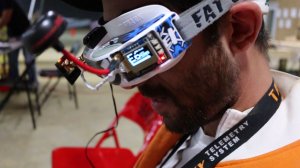 Why is drone racing becoming so popular?  First, it's the missing link between video game racing and actually having to fly inside a real plane.  Second, it's getting more affordable.
"Before, to do what they're doing now would cost thousands of dollars.  They can do it now for hundreds of dollars," Prieto said.
As for Madere, he now has sponsors and is close to turning his hobby into a career.  He's just as surprised as other to see the sport taking off.
"We're near about being able to say professional.  So no, I didn't think I'd ever be able to say that.  But I'm happy that I almost can," Madere said.
If you'd like to get a better idea of what it's like to fly a drone using the goggles, click on the video button above!