This is an archived article and the information in the article may be outdated. Please look at the time stamp on the story to see when it was last updated.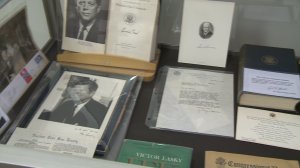 If you're looking for something to do this weekend why not head to the Old U.S. Mint in the French Quarter. There's a free exhibit on the third floor dedicated to the late President Kennedy called 'JFK: A Wounded Nation.'
Loyola University's Honors Program has organized the exhibit. It's a three part display that tells the story of President John F. Kennedy's assassination.
Professor and Honors Program Director Naomi Yavneh Klos says, "The oldest newspaper displayed is one from November 22, 1963, so the day when he was assassinated, when of course they ran an article on the ladies page about how Jackie Kennedy and her husband had hosted all the Supreme Court justices. After that we have the day after his assassination. You can see that on the one hand it's this terrible shocking horrible tragedy, that's sort of the first line of the headline, and then the second headline is and Johnson is now president."
The second case contains papers belonging to Mary Edith Wilroy. She managed Kenney's guest house and helped organize his funeral.
"And then we have a final case in which we have some of the documents relating to all the controversies. This is still for many people not a closed story," says Klos.
The exhibit is on display until Sunday.