This is an archived article and the information in the article may be outdated. Please look at the time stamp on the story to see when it was last updated.
FORT LAUDERDALE, Fla. (CNN) – Five people are dead in the shooting at Fort Lauderdale airport, according to a law enforcement official.
Authorities say the gunman, who appeared to be acting alone, is in custody.
Here's the latest on what we know:
• Five people are dead, a law enforcement official told CNN.
• Eight people were transported to a hospital, the Broward County Sheriff's Office said on Twitter.
• Multiple reports on social media — including tweets from former White House spokesman Ari Fleischer, described the shooting.
• Gene Messina told CNN he'd arrived at the airport as people were being evacuated from the terminal.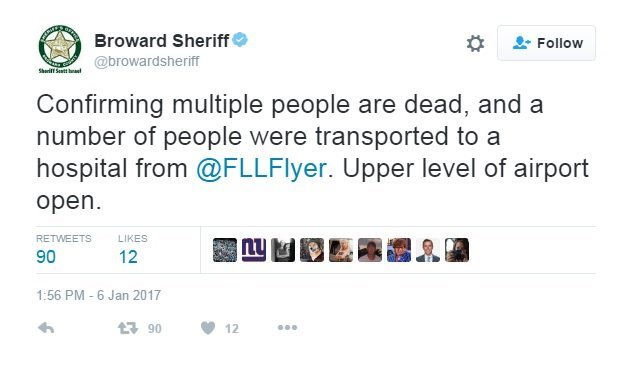 "I got off the plane and I saw people running and screaming," he said. "At first I was in shock but when I saw TSA agents running, I booked."
• Investigators are looking into the gunman's motive, Broward County Mayor Barbara Sharief told CNN.
• The shooting occurred in the baggage claim area of Terminal 2, officials said.
• Parts of the airport were apparently evacuated. Aerial footage from CNN affiliates showed large groups of people standing outside on the tarmac.
• In November 2016, nearly 2.5 million travelers passed through Fort Lauderdale's airport, according to a government report on the facility.
• There are four terminals at the airport.