This is an archived article and the information in the article may be outdated. Please look at the time stamp on the story to see when it was last updated.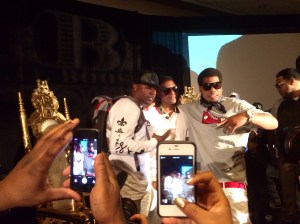 Lil Boosie is coming under fire by neighbors in his new upscale community.
WGNO News has learned a party at the rapper's home is generating complaints.
Reporter Darian Trotter has details, and exclusive reaction from the rapper's mother, Connie Hatch.
"It was just a small family gathering," Hatch said.
But neighbors in the English Turn subdivision are complaining.
Some are worried that a birthday party Rapper Lil Boosie threw last weekend for his mother's 60th birthday is the beginning of more to come.
Boosie reportedly just moved into the exclusive, gated-community. He's renting a home once owned by Rapper Birdman.
Boosie's mother says there were several parties that weekend.
"We're in this neighborhood just like everybody else, you understand. Just like everybody else have parties. We have parties too."
She says nothing got out of hand, and she's puzzled by the complaints.
"I just feel like we were being singled out and we have to be fair."
Trotter said, "WGNO News has learned the complaints stem from minor parking violations and noise. "The association here first plans to issue a warning before any notices go on record."
"Well if that's what they want to do that's find, but let's be fair, let's be fair, you know," Hatch said.
This wouldn't be the first time a rapper came under fire by neighbors.
In 2001, Rapper Juvenile was sued by his gated community's management company for parking his tour bus on the street outside of his Mandeville home; and leaving a fleet of sports cars in the back yard, at the Woodstone Subdivision.
Boosie made national headlines March, 10 2014 during his first public appearance and press conference since his release from prison on drug charges and probation violation.
Admittedly he and his family have reason to celebrate.
"I'm disappointed I wasn't invited," neighbor Joani Ventrella said jokingly.
Ventrella thinks some neighbors are being judgmental.
"A lot of people make the mistake of judging people before they know him and that's probably what's happening here. They probably heard who he is and got oh god we got rapper in the neighborhood," Ventrella said. "I think if people got to know him maybe they'd feel differently."
We spoke to the rapper and his manager Thursday night by phone. Both refused to comment.