This is an archived article and the information in the article may be outdated. Please look at the time stamp on the story to see when it was last updated.
No matter what holiday you celebrate, stocking-stuffers are a fan favorite. Stocking-stuffers are usually small or inexpensive gifts. After all, the holidays are about giving, not getting. Find below a list of great stocking-stuffers that are sure to have your family members smiling from ear to ear.
---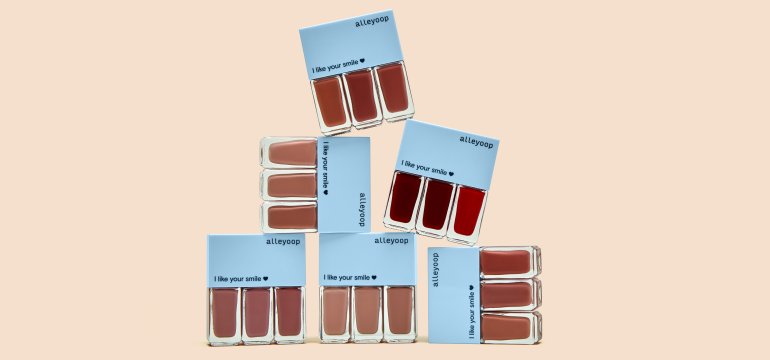 Alleyoop's newest product on the market, the Multi-Mood Lip Trio may change your life. Just kidding, but it is pretty great!
Everyone has that one lip shade you always go for. It's classic you. Multi-mood is the simplicity of your go-to color in three versatile finishes: a gloss, a cream, and a matte. Comes in an ultralight glass bottle with a doe foot wand for smooth application.
The compact, take-me-anywhere trios come in colors: Brand Nude, Mauve On, Wear & Terra, and Red & Done.
Having three finishes in one compact case saves you space. Forget carrying multiple lipsticks for a day to night look. Alleyoop lip colors are infused with shea butter to keep your lips soft in glowing glosses, plush creams, and velvety mattes. And you can always count of Alleyoop to be cruelty-free, vegan, and paraben-free.
Available online for just $28. That's a lipgloss and two lipsticks for just $28! Plus, sign up fro their newsletter and receive 10% off your first order, AND they offer free shipping for orders over $30.
---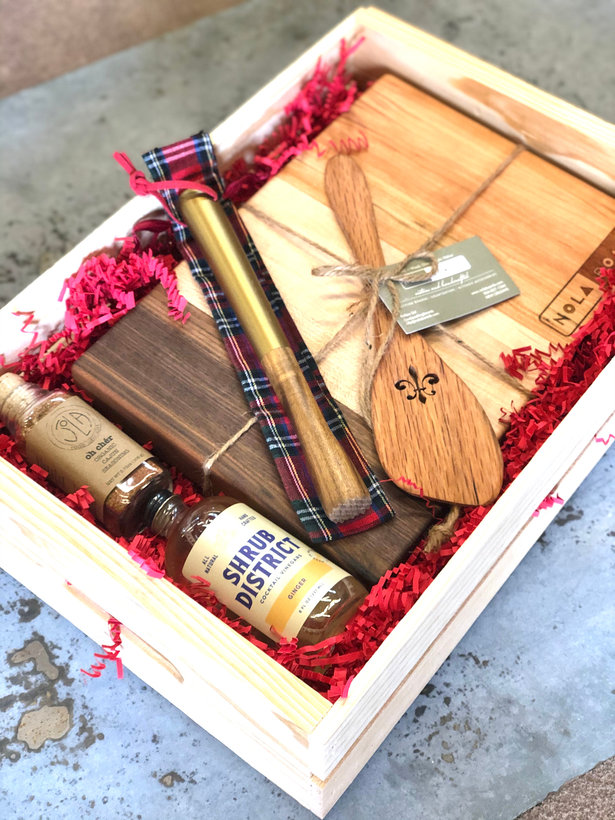 NOLA BOARDS is a homegrown, handcrafted cutting board, countertop, & custom furniture business located in the historic French Quarter in New Orleans.
Wanting to combine their talents, Mandy Simpson & her husband Daren Sumrow of New Orleans Woodworking teamed up in 2014 to create these one of a kind pieces of functional art.
NOLA BOARDS has so many products to choose from. Dozens of colors, patterns, materials and features. There is surely something for everyone on their website.
Among their products, cheese boards, gift baskets, bar products, and jewelry!
Stocking-stuffer ideas: Olive Board, Marigny Triangle Board, Holy Trinity Wine Bottle Holder
Looking for something bigger? Try these: Bar Lovers Gift Box, Marigny Triangle Set, Big Chief Sinker Cypress Chopping Block
---
When pregnant with her first baby, founder Lucy Small couldn't find high end moisturizing scrubs with ingredients pregnant moms didn't need to Google. More than anything she got fed up with how maternity products only focussed on stretch marks! Motherhood was such a journey with so many ups and downs and so much need for feel good self-care that she created her own. Woman founded and owned, this brand is completely unique, never heat-processed, and staffed by local moms to manufacture and package the goods.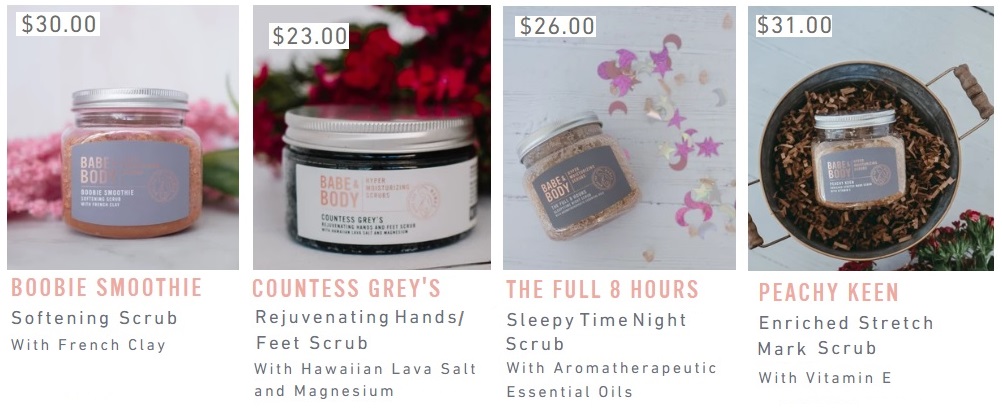 Skip the downward dog and bring the namaste straight to the shower! Babe and Body's shower scrubs are made with all natural ingredients aimed to heal and soothe whatever aches you're dealing with.
Babe and Body combines black lava salt straight from the volcano with added magnesium, which is then mixed in aromatherapeutic essential oils to alleviate dry and cracked skin.
Lavender oil unclogs pores, promotes healthy sleep, and has anti-inflammatory benefits. Lemon oil tightens the skin, prevents wrinkles, and removes excess oil.
Chamomile is known for its soothing and relaxing properties, that acts as a natural cleanser and helps to promote sleep. Gentle Aloe Leaf is a great cleanser, that moisturizes the skin to prevent drying or cracking.
Body scrubs, lip scrubs, face scrubs, oils, sprays, and more. Babe and Body products range in price from $20-$40. Spend $70, and you automatically get free shipping, no code needed. A great collection with a great mission, and great ingredients. Visit the Babe and Body website today!
---

Their mission is simple… let us return back to basics, when dyhydroxinathium and red dye #4 was only used to paint your car.  Sumit Bose, founder of FOUR, was tired of trying to pronounce chromiunylothum or wondering what its' purpose is. So they created FOUR:.  Skincare made with only four organic sustainable ingredients.
Have you ever wondered what's in your lip balm? Did you know that most brands contain preservatives, chemicals, fillers, and even alcohol (to dry out your lips)?
FOUR:'s Lip Balm is a blend of only four organic sustainable ingredients: Beeswax, Coconut Oil, Jojoba Oil, and Peppermint Oil; hence the name FOUR:
Say goodbye to preservatives, toxic ingredients, and animal testing.
A three pack of FOUR: lip balm is $18 and includes free shipping to all of the USA.
---