This is an archived article and the information in the article may be outdated. Please look at the time stamp on the story to see when it was last updated.
NEW ORLEANS (WGNO) –
WGNO's weekend anchor and News With A Twist reporter 
Jacqueline Mazur
is a self proclaimed Halloween enthusiast and headed over to the Pitot House in Bayou St. John to check out this year's 19th Century Mourning and Burial Customs Fall 2016 Series. The tour began outside the Pitot House, where executive director of the Louisiana Landmarks Society, Carol Gniady, joined in on the tour. Save Our Cemeteries guide Emma Gross began the afternoon discussing mourning traditions that date back hundreds of years.
Deep mourning
Second stage
Half mourning
If you were a moral and ethical person, flowers were said to grow around your grave. If you were a bad person, weeds would grow in place of the flowers.
If you smelled roses and there were no roses in sight, this meant someone was going to die.
If you hear three knocks at your door and no one is there, this means someone has died in your family.
After a brief walk from the Pitot House to St. Louis Cemetery #3 on Esplanade, the tour continued among the dead. Our first stop was a memorial honoring St. Louis IX, the patron saint of all Louis kings. He's also the patron saint of monarchs, distillers, construction workers, hair dressers, and large families.
here
for the recipe.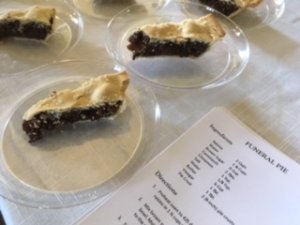 The tour then continued with a brief overview of the history of the Pitot House with docent Jamie Barker, followed by a tour of the home. The home was 'dressed' as if in mourning and featured rooms with black cloth covering all mirrors, period piece mourning attire, in addition to mourning mementos.
here
 to purchase tickets.