This is an archived article and the information in the article may be outdated. Please look at the time stamp on the story to see when it was last updated.
NEW ORLEANS (WGNO) - The Orionid meteor shower will peak tonight as the Earth passes through the remnants of Haley's Comet. While we won't be able to see the comet itself again until 2062, every year the Earth travels across the debris the comet has left behind and the parts that fall through our atmosphere are the Orionids.
The best time to view the meteors tonight will be about an hour before dawn when the sky is still dark (technically 6 a.m. Friday morning). Look southeast, just above the horizon for the brightest star in the sky. This is Sirius, the dog star. Once you find Sirius, tilt your head and look slightly up for three stars close together that almost for a straight line. This is Orion's belt in the constellation Orion and is where the meteors will appear to be coming from.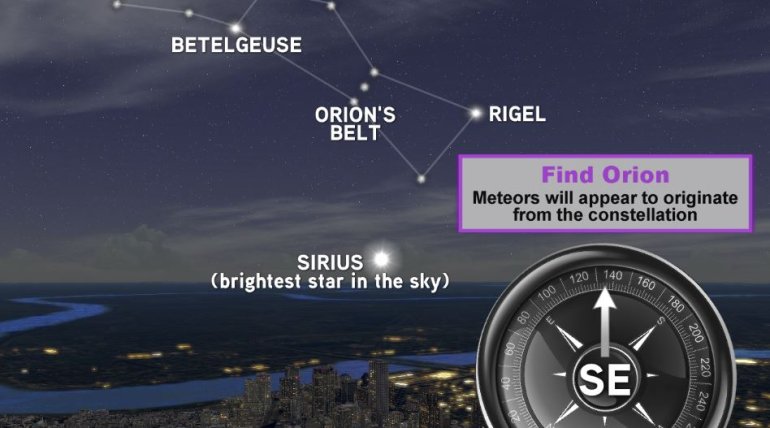 The peak will be around 20 meteors an hour under ideal circumstances. 'Ideal' is the key word. Because of the light coming off the city of New Orleans, the number of meteors will be significantly lower so you'll need to get far outside the city's glow for best viewing. The other hindrance will be a cold front sweeping through the area. The limited moisture is located behind the front, so even though temperatures will be cooling, clouds will still be in the area. There is the possibility the back edge of the clouds will have passed just in time for peak viewing at 6 a.m.
The Orionids are known to be bright and fast moving. The average Orionid meteor travels at 41 miles per SECOND! Meaning the ones that are visible as they burn up in the atmosphere are noticeable for less than a second as they streak across the sky. Hopefully the sky will clear and you can sneak a peak at a few before the sun rises.