This is an archived article and the information in the article may be outdated. Please look at the time stamp on the story to see when it was last updated.
UPDATE: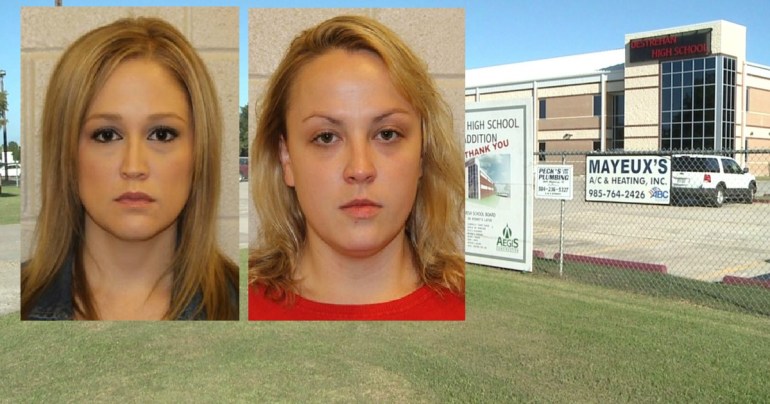 KENNER, La. (WGNO) – After a weekend of rumors, Kenner police released mug shots and additional details on a sex scandal involving two Destrehan High School English teachers and a student.
Jefferson Parish authorities said both teachers, Shelley S. Dufresne, 32, and Rachel Respess, 24, are facing felony charges of carnal knowledge of a juvenile, contributing to the delinquency of a juvenile and indecent behavior with a juvenile.
According to Kenner Police Chief Michael Glaser, the two teachers met with a Destrehan High student after a football game on September 12th, then drove to Respess's Kenner apartment where the three had sex simultaneously until the early morning hours of the 13th.
"You have an educator, I guess, the responsibility is the safety and education of the children and when it goes outside those lines I believe the community should be outraged," Chief Glaser said at a press conference Wednesday.
The student, who authorities say is a junior at Destrehan High, is now 17, but was 16 when the alleged relationships began. Former students told WGNO the student and both teachers had been involved for some time, meeting for sex multiple times and documenting some of their encounters on video.
"This Rachel Respess was an English teacher of the victim last school year, so she did have some type of contact and knew him. Shelley Dufresne is his current teacher," Glaser explained.
For Shelley Dufresne this is her second trip to jail in one week. She is also facing charges out of St. Charles Parish where authorities believe the relationship continued.
According to Dufresne's Destrehan High profile, she is a Louisiana State University and Destrehan High alum, graduating from DHS in 2000. She is currently in her tenth year as a teacher, is married with three young children, and is the daughter of St. Charles Parish Judge Emile St. Pierre.
Rachel Respess's profile showed she began her second year at DHS and is also an LSU and Destrehan High alum, graduating high school in 2008.
Chief Glaser said the alleged acts are unfortunate, but not surprising.
"Nothing surprises me anymore really, but I do believe its lack of a better judgment. They should have known better," he said.
Glaser also addressed the double standards surrounding the case, saying either way, the crime is sickening.