This is an archived article and the information in the article may be outdated. Please look at the time stamp on the story to see when it was last updated.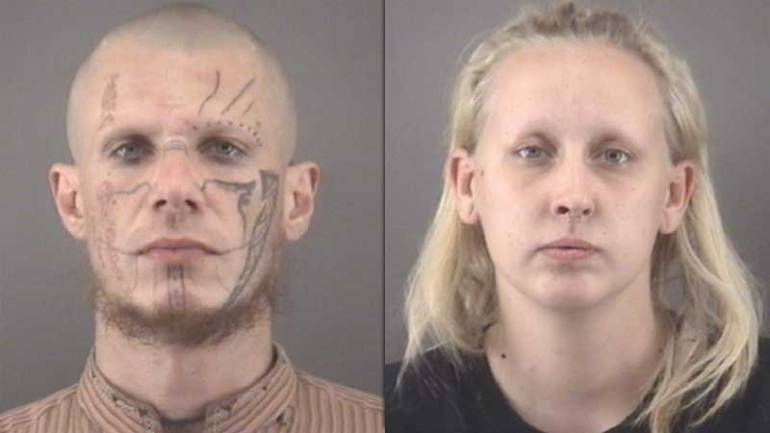 CLEMMONS, N.C. – A North Carolina man charged with murder after two bodies were found buried behind his home was "possessed" and allegedly "sacrificed animals," according to a report from WGHP.
Pazuzu Algarad was arrested and charged after the bodies were discovered on Sunday.
Algarad is accused of killing a person and then burying the body in his backyard in July of 2009. He also allegedly helped his self-proclaimed wife, Amber Burch, bury a man she killed in October of 2009.
A unidentified man who claims he was at the home when the bodies were buried told WGHP the suspect was "possessed."
"When you walked in the first room, it was kind of blacked out and the wallpaper had been peeled off. There was like scribbles, and scratches, and graffiti, and Arabic and Satan and swastikas," the man said.
Pazuzu Algarad had a split tongue and sharpened teeth at the time of his arrest. "Pazuzu" is the name of a demonic god who was referenced in the movie the Exorcist.
"It was very serpentine. And his eyes would kind of get a little, like, glazy. Like almost not there, like the inner part of him would kind of phase away," the man said of the times that Algarad would seemingly transform into someone, or something else. "You could tell when his demons needed something from him, because they took over."
The unnamed man said Algarad would speak as though he was possessed, in some sort of foreign language. The man also claimed that animal sacrifices happened regularly inside the home.
"About once a month, and it was usually on a full moon, they sacrificed at least one rabbit, and then he would eat the heart of it, and then burn the flesh of the rabbit," the man said.
Investigators were still on the scene as of Wednesday afternoon. Authorities have deemed the home unsafe for human life.