This is an archived article and the information in the article may be outdated. Please look at the time stamp on the story to see when it was last updated.
KENNER, La. (WGNO) –
Terry Speaks, a suspect in
the murder of Bourbon Street dancer Jaren Lockhart
has been brought back to Kenner to face charges. Speaks was transported to Kenner from a federal prison in New York where he was serving a two year sentence for having sex with a minor. Speaks arrived at Louis Armstrong New Orleans International Airport Wednesday morning and was transported to the Jefferson Parish Jail in Gretna to await his court appearance. Speaks is set to appear before Judge Stephen Grefer on Monday, October 20th. Speaks has changed his look considerably since he was last in the New Orleans area. His hair is brown and he was wearing glasses as he was escorted by federal agents to a Kenner Police car.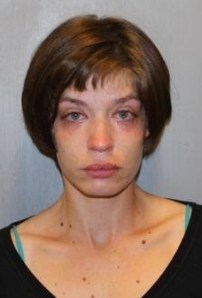 Speaks faces second degree murder, obstruction of justice and conspiracy to obstruction of justice in Jefferson Parish for the brutal killing and dismemberment of Lockhart in 2012. In May of 2014, 
Speaks confessed to killing Lockhart
and cutting up and attempting to dispose of her body, according to Kenner Police Chief Steve Caraway. Speaks alleged accomplice, 30-year-old Margaret Sanchez is also being held in Jefferson Parish Jail on $1.5 million bond in connection with Lockhart's murder. She has
pleaded not guilty
to second degree murder and obstruction of justice. Speaks and Sanchez were the last known people to see Lockhart alive. The three were seen on surveillance video leaving a Bourbon Street club together. Chief  Caraway said in May, Lockhart agreed to leave with Speaks and Sanchez after they offered to pay her to party with them. As to what went wrong, is still a mystery.
Terry Speaks mugshot 2014.

Terry Speaks arrived in New Orleans around 10:20 a.m. Wednesday from Newark Airport. He was extradited from New York to face second degree murder charges in Jefferson Parish for the brutal killing of French Quarter dancer Jaren Lockhart in 2012. (WGNO)

Terry Speaks arrived in New Orleans around 10:20 a.m. Wednesday from Newark Airport. He was extradited from New York to face second degree murder charges in Jefferson Parish for the brutal killing of French Quarter dancer Jaren Lockhart in 2012. (WGNO)

Terry Speaks arrived in New Orleans around 10:20 a.m. Wednesday from Newark Airport. He was extradited from New York to face second degree murder charges in Jefferson Parish for the brutal killing of French Quarter dancer Jaren Lockhart in 2012. (WGNO)

Margaret Sanchez mugshot from 2012. (Photo: Federal Prison System)

Jaren Lockhart

Jaren Lockhart