This is an archived article and the information in the article may be outdated. Please look at the time stamp on the story to see when it was last updated.
NEW ORLEANS (WGNO) -- Jeffrey Sallet took the reins of the FBI in New Orleans as the Special Agent in Charge in November.  He says he wants to be as transparent as possible with the public.
Recently, that included the FBI's announcement that it would be stepping up its use of surveillance cameras along parade routes.
Friday, Sallet took an additional step and invited reporters to get an idea of the life and death decisions agents must make while taking criminals off the streets.
The day began with demonstrations of how similar toy guns look to the real thing.  Perhaps you've heard that the toys generally have a red or orange tip on the barrel, but agents showed reporters that sometimes the colored tips are removed from toys and other times are added to the real thing.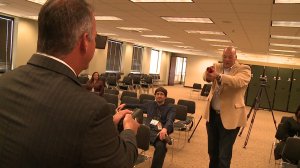 Also, agents talked about the use of deadly force.  They understand that the public might raise an eyebrow upon hearing that a suspect was shot 20 or 30 times.  But agents also played a videotape of a man who continued to fire at agents during a gunfight until he'd been hit 30 times by the return gunfire.
Then agents talked about blood loss from gunshot wounds.  They say a suspect who is shot more than 30 times may only have four or five injuries that eventually stopped them.  Also, agents say an average person has ten pints of blood in their body and can stay conscious until about half of it is lost.
Finally, agents put reporters to the test with a shoot-don't shoot exercise.  John Huber, the leader of the bureau's tactical team, put reporters through the paces.  Agents used various scenarios that showed how they must make split-second decisions to save lives, opting to shoot -- or not.
To see the shoot-don't shoot examples, click on the video button above.