This is an archived article and the information in the article may be outdated. Please look at the time stamp on the story to see when it was last updated.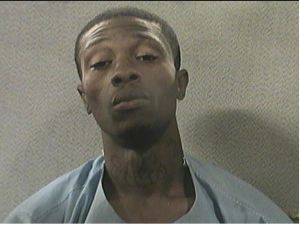 NEW ORLEANS (WGNO)-The NOPD has arrested the suspect believed to be responsible for the fatal shooting of Officer Daryle Holloway, a 22-year veteran of the New Orleans Police Department. Seventh District Officers Stephen McGee and Dylan Warter arrested 33-year-old Travis Boys just before 9 a.m., Sunday after he was seen boarding a Regional Transit Authority bus near the intersection of St. Claude Avenue and Forstall.
From the moment that this tragic event happened, we brought together as many people and resources to track down this suspect and bring him to justice," said NOPD Superintendent Michael Harrison. "I want to thank the men and women of the NOPD and all of our partner law enforcement agencies for their tireless work over the past 24 hours. Even though they were grieving the loss of a fellow officer, they never gave up and they continued to serve their community."
"When someone kills a police officer in the line of duty, it is an attack on the entire community, personally and as a city," said Mayor Mitch Landrieu. "It is a reminder of the sacrifices our police officers make when we hire them to protect and serve us. Officer Holloway did tremendous work as a police officer and he was doing that yesterday when his life was taken. I want to thank everyone who was involved in this quick arrest. We are committed to working as hard as we can to continue to make this city safe."
EXCLUSIVE: Video of accused cop-killer buying a po-boy
On the evening of June 19, 2015, officers arrested Travis Boys for an aggravated assault involving a female victim. He was accused of shooting a .38 caliber weapon in the incident. Once he was arrested, officers transported Boys to the NOPD 5th District Station, located at 3900 North Claiborne Avenue. Night watch officers then frisked Boys for any weapons and subsequently turned Boys over to the day watch to transport Boys to the Orleans Parish Prison.
After 8 a.m. on June 20, 2015, EMS responded to the scene of an accident involving a NOPD sport utility vehicle that had apparently crashed into an electric pole near a Shell gas station. Upon arrival, EMS discovered Officer Holloway in the front seat of the vehicle with an apparent gunshot wound to his body. EMS transported the officer to the hospital, where he later died.
According to the initial investigation, Boys shot Officer Holloway from within the vehicle during the transport, made his way into the front of the vehicle and fled the scene. Shortly after, Officer Holloway crashed the vehicle at a nearby gas station. NOPD identified Boys as the suspect for the murder of Officer Holloway and immediately began a multi-agency manhunt.
During the course of the investigation, detectives recovered two guns from the police unit, in addition to Officer Holloway's service weapon, which remained in his holster. One of the guns, a 38 caliber revolver, was believed to have been used in the battery of the female victim, for which Boys was initially arrested. A second weapon, a 40 caliber Smith & Wesson, was also recovered in the police unit and is believed to be the weapon used in this crime. How Boys was able to retrieve this weapon is still under investigation.
Throughout the search for Boys, NOPD received tips from all across the Greater New Orleans area. At one point, officers tracked Boys down in a Dodge gray pickup truck, which had been reported stolen. After a short vehicle pursuit, Boys crashed the truck into a house in the St. Roch neighborhood and then fled on foot.
Just before 9 a.m. Sunday, officers located Boys inside a neighborhood convenience store near the corner of St. Claude and Forstall. Boys then boarded an RTA bus, and after a brief chase, officers arrested him. Boys still had broken handcuffs on his wrists.
David Bellfield, Holloway's Uncle said, "We don't understand how this individual could have a .40 caliber gun inside of a police car, after he was arrested.  The facts are baffling to us."
Stanley Toval, a family friend said, "I was raised with him.  He was like my brother.  Everybody loved him, I can't believe he's gone."
Eric Bellfield, Officer Holloway's Cousin said, "He'd do anything for anybody, if he had $10, you'd have $9."
Members of the Public Integrity Bureau (PIB) brought Boys to LSU Interim Hospital for initial treatment after officers believed Boys to be dehydrated. Upon his release, Boys will be transported to Central Lock-Up where he will be charged with: First Degree Murder of a Police Officer, Aggravated Escape, and Illegal Possession of a Firearm
Boys will also faces charges for the initial Aggravated Assault incident. PIB Force Investigation Team is in charge of the investigation.
Members of the Independent Police Monitor and the Federal Consent Decree Monitor have been monitoring the process from the beginning.
The arrest closed out a nearly 24-hour manhunt with support from local, state and federal law enforcement agencies and partners:
Holloway was 45-years-old and had been a member of the NOPD since 1992. He had been assigned to the Fifth District since 1998.
A vigil will be held on Tuesday night at 2020 Kerlerec Street at 7 p.m.
A funeral for Officer Holloway is set for 11 a.m. on Saturday at Maria Goretti Church.