This is an archived article and the information in the article may be outdated. Please look at the time stamp on the story to see when it was last updated.
CUT OFF, La. – A traffic stop in Lafourche Parish ended up in the seizure of two assault-style rifles, two handguns, a shotgun, over 5,000 rounds of ammunition, just under one pound of marijuana, methamphetamine, LSD, MDMA, and cocaine.
Officers with the Lafourche Parish Drug Task Force pulled over a car driven by 34-year-old Edward Domangue on Thursday, May 18, according to Lafourche Parish Sheriff Craig Webre.
The agents found marijuana, THC wax, and drug paraphernalia inside Domangue's vehicle at the time of the traffic stop.
A search of Domangue's home on West 126th Street turned up 448 grams of marijuana, nine grams of THC wax, 208 doses of LSD, 13 doses of MDMA, 0.5 grams of methamphetamine, 0.5 grams of cocaine, two handguns, two rifles, one shotgun, and approximately 5,000 rounds of ammunition, according to Webre.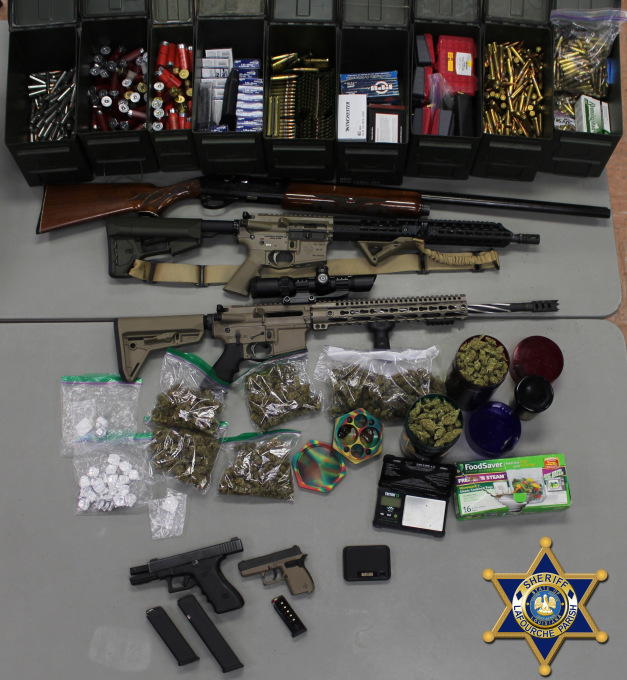 Domangue was arrested and booked with possession with intent to distribute marijuana and LSD. He was also booked with possession of cocaine, MDMA, methamphetamine, and drug paraphernalia, as well as illegal carrying of a weapon in the presence of a controlled dangerous substance.
His bond is currently set at $45,500, but additional charges could be forthcoming, according to Webre.