This is an archived article and the information in the article may be outdated. Please look at the time stamp on the story to see when it was last updated.
PAULINA, LA (WGNO) -- Saint James Parish deputies are searching for whoever walked into a grocery store Monday night while wearing clown costumes.
It happened at the Matherne's supermarket in Paulina.  Deputies say they're taking the case very seriously.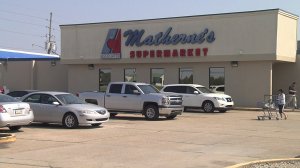 The clown case is just the latest and follows others that happened around the country.  It appears to be the first in Louisiana.
Similar creepy -- or so-called killer clown -- cases have also been reported in North and South Carolina, Pennsylvania and other states.  It has reached the "phenomenon" stage.  In some of the cases, police say the clowns tried to lure kids to walk their direction.
In the St. James case, deputies say the pair walked into the store and was approached by the manager who asked them to identify themselves, but they refused and left.
Sure, Halloween is a little more than a month away.  But the idea of people walking around in clown costumes and refusing to reveal their identities has some people creeped out.
Deputies say they're checking footage from surveillance cameras and have some leads.  The clowns didn't take anything and didn't hurt anyone.