This is an archived article and the information in the article may be outdated. Please look at the time stamp on the story to see when it was last updated.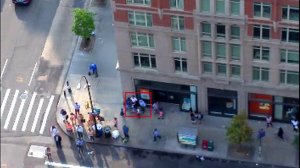 It's the latest technology making policing look easy. Advanced programing installed inside surveillance cameras that allows you to stop a crime before it happens.
Ray Cavanagh Vice President of Crescent Guardian explains, "Whenever something happens that's unusual or shouldn't be occurring it will send an alert or an alarm than the personnel can respond to that, take a further look and try and prevent a security event from happening."
Crescent Guardian has been a security company for over 20 years, but recently they've upped their game employing behavioral analytics technology.
"It's quite unique in the sense that the system itself, the software itself, can identify unusual or anomalous behavior and report on that, so rather than watch cameras 24/7 trying to pick things up along the way, the software does it for you," says Cavanagh.
Once installed the software recognizes patterns. As soon as something out of the ordinary appears the image is highlighted, the clip is recorded, and someone is sent to assist.
The technology sounds great to Stuart Rome. He recently opened Woodhouse Day Spa on one of the busiest corners of New Orleans. Crime cameras were there from day one.
"I can look at every camera live and I get text alerts for banking, text alerts for everything. So getting a text alert regarding an issue at the spa would be awesome," says Rome.
So far the technology has been installed in thousands of cameras around the world. Most of them protecting water and transit authorities.
Several years ago simple surveillance cameras seemed out of reach for many, but eventually prices came down and now were seeing crime cameras everywhere. Those at Crescent Guardian believe the same will with this latest technology. Right now it costs about $5,000 to install.