This is an archived article and the information in the article may be outdated. Please look at the time stamp on the story to see when it was last updated.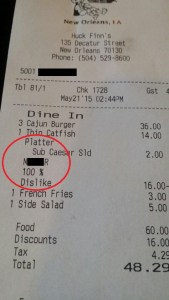 NEW ORLEANS (WGNO) – A photo of a receipt from Huck Finn's Cafe has sparked outrage on social media for obvious reasons.
A photo of the itemized receipt was uploaded to Facebook Thursday evening. It shows a list of food ordered, but below the "Thin Catfish Platter" are the words "n—- 100% dislike".
The restaurant says the server has been fired.
This was the restaurant's statement posted on its website Thursday night:
Huck Finn's Cafe is shocked and appalled at the actions of one of its employees, who was terminated immediately after management found out they violated company policy.

Huck Finn's Cafe is committed to treating everyone, employees and customers alike, with dignity and respect.

The unfortunate actions of this one employee do not mirror the mission of Huck Finn's Cafe's firm non-discrimination policy, and we are extremely apologetic for any inconvenience this may have caused. We have been serving customers from around the world for more than 6 years, and our employees work their hardest to go above and beyond to ensure visitors have a pleasant and respectful experience at Huck Finn's Cafe.