This is an archived article and the information in the article may be outdated. Please look at the time stamp on the story to see when it was last updated.
NEW ORLEANS — A massive fire that blazed for hours Monday morning in a warehouse along Bayou St. John destroyed the studio and art supplies of NOPD detective and local artist Charles Hoffacker.
Hoffacker's acclaimed work depicts his own work as an NOPD detective, using bullets and shell casings that are ground down and mixed with paint and gun powder to paint portraits that illustrate the gun culture and violence of New Orleans.
A GoFundMe page set up for Hoffacker says his studio, along with several irreplaceable paintings and all of his art supplies, were destroyed in the warehouse fire near the corner of Toulouse and Rendon along Bayou St. John.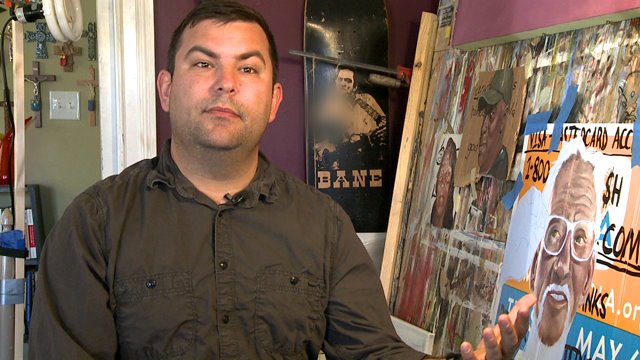 The building houses three other businesses – Nola Til You Die, Canal Furniture Liquidators, and a furniture store – as well as a vacant apartment.
NOFD Superintendent Tim McConnell said the former warehouse was stacked full of furniture, which compounded the intensity of the flames.
The building is a total loss.
Fans of Hoffacker's art are coming together to raise money to replace his art supplies and find him a new work space.
"If you've ever been made to laugh by Charlie's unique sense of humor and approach to life … If you've ever been touched by Charlie, show us where on the doll and please donate. It's never too soon to help our friend laugh this off, but the time is right now to donate and help our friend regain the tools and supplies needed to resume exploring his artistic vision."
News with a Twist featured Hoffacker's story and art in 2014. Watch the video below to learn more about Hoffacker and his work: