This is an archived article and the information in the article may be outdated. Please look at the time stamp on the story to see when it was last updated.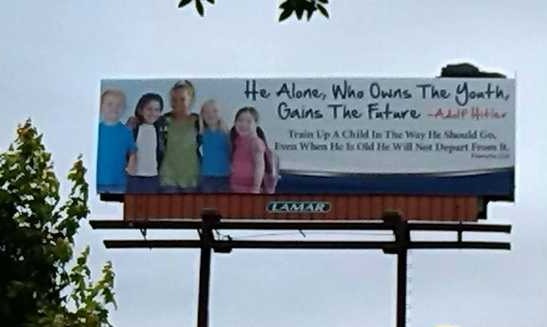 OPELIKA, Ala. — A youth ministry in Alabama said they had only the best of intention when renting out a billboard then putting a quote from Adolf Hitler on it.
The controversial billboard featured the quote:
He alone, who owns the youth, gains the future – Adolf Hitler
The billboard also had a group of smiling children and a well-known Bible verse from Proverbs on it.  "Train up a child in the way he should go; even when he is old he will not depart from it."
Officials with The Life Savers Ministries said they understand why some people found the billboard, which went up Friday, inappropriate.  They took it down Tuesday replacing the Hitler quote with one from former U.S. President Herbert Hoover.
"We are pulling the billboard and certainly never intended to cause confusion. … Herbert Hoover would have been a far better one to quote when he said, 'Children are our most valuable resource,'" founder James Anderegg told the Ledger-Enquirer. "We are a children's organization and had honorable intentions and nothing less."