This is an archived article and the information in the article may be outdated. Please look at the time stamp on the story to see when it was last updated.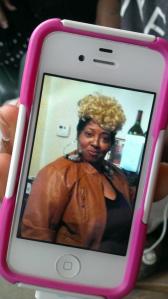 Updated @ 4:00 p.m. Monday
New Orleans police say a 48-year-old woman who disappeared Friday evening has returned home in good health.
———————————————
New Orleans Police are asking for the public's assistance in locating 48-year-old Sherry Sampson who was last seen March 7, 2014 in the 3300 block of Calhoun Street.
Sherry Sampson, black female, 7/23/1965, left a house in the 3300 blk of Calhoun Street on Friday, 3/7/2014 to go shopping.  Ms. Sampson utilized her aunt's 2001 Chevrolet Blazer, black in color, bearing LA – NIA-544, during her shopping trip.  At approximately 10pm that evening she telephoned a family member to say she was on her way home.  Ms. Sampson did not return home and the Chevy Blazer had not been returned.
Sherry Sampson has not been seen or heard from since.
Attached is a photograph of Sherry Sampson and the picture of the type vehicle she used.
Anyone with information on the whereabouts of Sherry Sampson is asked to call 821-2222.