This is an archived article and the information in the article may be outdated. Please look at the time stamp on the story to see when it was last updated.
 NEW ORLEANS — The 12-week free concert series in Lafayette Square, formally known as "Wednesday at the Square," is back!
The lineup was announced Wednesday.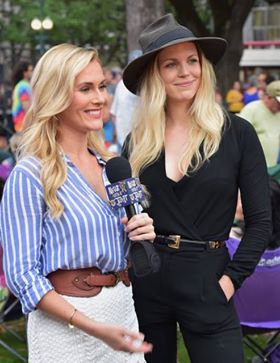 The series begins Wednesday, March 14 at 5 p.m. featuring a headlining performance by the Grammy Award-winning Lost Bayou Ramblers with Mia Borders as co-headliner.  Meghan Kluth from News With A Twist will return to emcee the series for the second year.
The concert series is free to attend, but all of the food and drink ticket sales go to benefit the Young Leadership Council's community service projects.
"We are delighted to produce another amazing year of YLC Wednesday at the Square concerts for our community and visitors to enjoy," said Stephanie Powell, Executive Director of Young Leadership Council. "The series would not be possible without the work of hundreds of volunteers, who handle everything from securing crowd-pleasing talent to the logistics and marketing of the event. It is always so inspiring to see these young professional leaders in action."
2018 YLC Wednesday at the Square Lineup
March 14: The Lost Bayou Ramblers with co-headliner Mia Borders
March 21: Walter "Wolfman" Washington with opener Johnny Sketch and the Dirty Notes
March 28: Marc Broussard with opener Helen Gillet
April 4: Sweet Crude with opener Travers Geoffray
April 11: Flow Tribe with To Be Announced
April 18: Wayne Toups with opener Darcy Malone
April 25: Big Sam's Funky Nation with opener The Deslondes
May 2: Amanda Shaw with opener Trumpet Mafia
May 9: Bonerama with opener N'awlins Johnnys
May 16: Headliner To Be Announced with opener Motel Radio
May 23: Maggie Koerner with opener Naughty Professor
May 30: Shamarr Allen with co-headliner Robin Barnes and the Fiyabirds