This is an archived article and the information in the article may be outdated. Please look at the time stamp on the story to see when it was last updated.
The kids may have gone back to school, but Summer isn't over just yet. The temps are high, the sun is beaming, and the sweat is dripping. We've comprised a list of a few products that we have been swooning over all summer. If you haven't gotten your hands on them, now is the time!
---
As our world constantly changes, so does the impact on our skin. From blue light to UV radiation and more, skin needs more protection than ever… and that's when SkinSuit jumps in to saves the day.
SkinSuit comes from the makers of Skin Authority, a company committed to unleashing the self confidence that comes from feeling great. Created by Celeste Hilling, Skin Authority is launching the next frontier of beauty protection with SkinSuit. This innovative company also has patented two way technology for one on one personalized skin care advice.
This revolutionary breakthrough beauty product takes on what the environment is putting out there. Whether protecting from pollution and harmful UV rays to reducing the damage from long-term exposure to blue light from computers and cellphones, our faces need a new armor and SkinSuit is here to help.
In one simple step, the weightless SkinSuit takes on all of what surrounds us, both indoor and outdoors.
SkinSuit is great for all skin types, color correcting to hide small imperfections  and offering mineral protection from the sun without the harsh, hard to rub in lotion effect.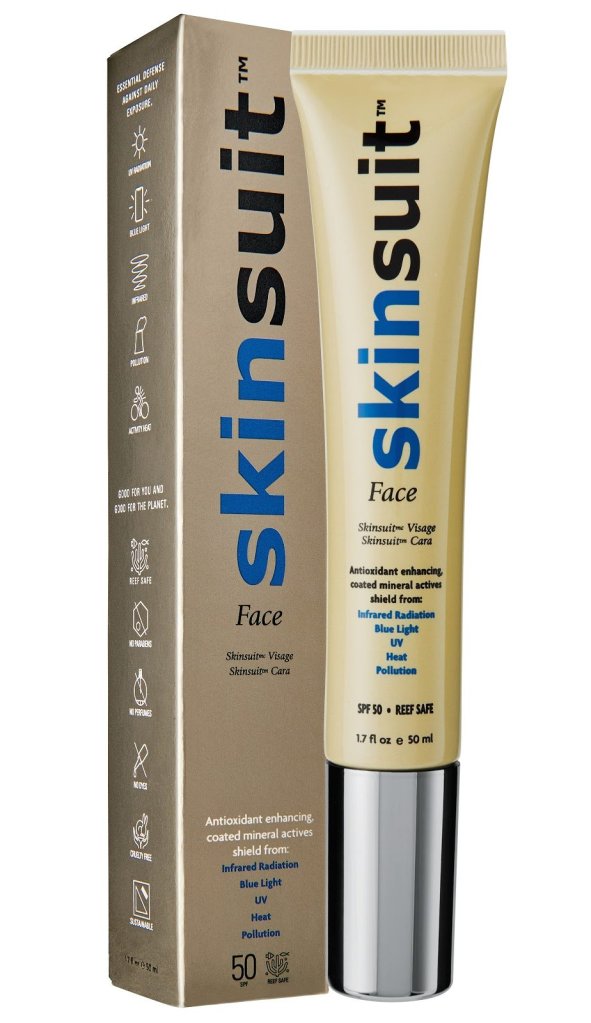 A ground-breaking new category of prevention care designed to keep skin looking healthy, fit, and fabulous, SkinSuit™ features:
Protection from elements such as UV radiation
pollution, blue light, infrared and heat activity due to activities such as exercise
Amazing hydration for the skin and lips
Guards  from all indoor and outdoor environmental aggressors all in one
Color corrects the skin to hide small imperfections
Antioxidant enhancing, coated mineral active shields
Applies weightless and sheer while providing amazing protection
Keeps skin looking healthy, fit, and fabulous
SPF 50
Reef safe
Free from parabens, no added dyes or perfumes, no microbeeds and cruelty free (no animal testing)
Great for all skin types
Goes on smoothly while feeling fabulous
SkinSuit goes beyond its amazing sun protection and color correction to also tackle current hardships on skin, including:
Blue Light – In 2010, the Journal of Investigative Dermatology published clinical data that blue light contributes to photo-aging, including wrinkles, worsening skin laxity, and hyperpigmentation more than comparable levels of UVA rays. With Americans averaging 11 hours a day in front of a screen and 97% of millennials averaging 223 minutes a day,  this leads to long term exposure.
Pollution – Ninety-two percent of people around the world live in cities that do not comply with WHO air quality standards. Urban dust contains a cocktail of 224 toxic chemicals – from hydrocarbons to pesticides and heavy metals. Cigarette smoke consists of over 6,000 chemicals which are small enough to infiltrate skin.
Infrared and Activity Induced Heat (high intensity working out) – Recent studies demonstrate that IR, heat exposure and sharply elevated body heat each induces photoaging, loss of elasticity and collagen.
Available for face and lips, SkinSuit is changing the skin care game with a whole new way to protect from outside aggressors.
SkinSuit Face can be purchased here for $59.
SkinSuit Lips can be purchased here for $26. 
Or, purchase the duo and save $16!
---

Jewelry designer Szilvia Gogh is a Renaissance Women. She has accomplished many things before 40 that most people do not do in a lifetime. She travels the world and makes a living from her passions.
She believes pieces can be beautiful and say something too, and this is the philosophy you'll find within the collections of Gogh Jewelry Design.
A unique line of stunning jewelry made from nature's most basic elements that inspires, gives back and celebrates life. Gogh's necklaces, bracelets and earrings are inspired by her life as a "Renaissance Woman." In addition to designing jewelry, she's a professional scuba diver, stunt woman and photojournalist. Her jewelry pieces inspire the natural tranquility of the ocean to the wonders of Eastern zen practiced in yoga.
Her handmade jewelry is all assembled in Los Angeles using curated materials from her travels including natural stones and crystals such quartz, jade and agate. These materials are then transformed into meaningful accessories that nourish the mind, body, and soul.
If the unique design of this jewelry doesn't evoke these feelings, perhaps their purpose will. Gogh is an active volunteer with the A Chance for Children Foundation and works with "at-risk" youth in Los Angeles. Further supporting this cause, one percent of all Gogh Jewelry Design sales go to support projects by funding beads and jewelry making supplies. Gogh wants to inspire others not only through her jewelry but through her charity work as well …wear some creativity while helping children explore theirs with Gogh Jewelry Design.
[protected-iframe id="27caa333c06a8aaeca33182e9d8dc8d0-41641972-149668789″ info="https://player.vimeo.com/video/49277135″ width="640″ height="360″ frameborder="0″]
---
Dry hair? Flaky scalp? You need the all natural coconut oil hair care line by NIUCOCO. I received the shampoo, conditioner, and renewing hair serum. The directions for all three products are very straight forward, just as you would expect. Shampoo first, then condition, and finally, apply the serum to damp but clean, brushed hair.
The Dynamic Hair Trio is currently on sale for $75, but normally $99, and shipping is free for orders over $50.
All NIUCOCO products are made from cold-pressed extra virgin coconut oil and are free from parabens, phthalates, sulfates, artificial fragrances and colors. The shampoo, conditioner, and renewing hair serum are also all cruelty free, and vegan.
Indulge yourself with the luxurious hydrating shampoo. The shampoo does not come to a full soapy lather, but don't be deceived, only a small amount is needed.
The smoothing conditioner feels more like a lotion than a conditioner. It is thick, but not too wet. It also doesn't give your hair that slippery, moist feeling after conditioning. Some people love that feeling, some don't, so it just depends on what your prefer.
And the finishing touch, the renewing hair serum, which works extra hard to lock in moisture for soft, shiny, and beautiful hair. This nutrient-rich serum and styling oil does it all, including detangles ends, protects against heat styling, and adds high-octane shine. This multi-tasker is infused with extra virgin coconut oil, guava fruit extract, and sunflower seed oil that encourages smoothness and nourishment, while helping hair look bouncy and luxurious.