This is an archived article and the information in the article may be outdated. Please look at the time stamp on the story to see when it was last updated.
NEW ORLEANS (WGNO)- Next time you're in City Park you must check out its new sculpture garden.  With 14 sculptures all created by a famous sculptor, Enrique Alferez.
News with a Twist Reporter Kenny Lopez takes us there!
Alferez's daughter, Tlaloc Selway Alferez is so proud of her pops and the new sculpture garden, "The Helis Foundation Enrique Alferez Sculpture Garden" in City Park's New Orleans Botanical Garden near the Pavilion of the Two Sisters.
"The tranquility of his pieces need to be transmitted throughout human kind," she said.
His work is a staple in New Orleans, and there's a good chance you've seen one of his most famous pieces, the facade of Charity Hospital.
Now with this new garden, this daughter feels like her father would be very happy.
"I think he would be grateful.  He was a very humble man and never spoke about his art, but he would've loved all the trees here,"  she said.
Before coming to the United States, Alferez was in Pancho Villa's army during the Mexican Revolution.  He moved to New Orleans in 1929, and stayed until his death in 1999.
"He wanted to get away from the misery, the squalor, the brutality,"  she said.
After a tough past, his daughter says its no wonder why he chose to showcase peace and beauty in his sculptures, especially women's beauty, a common theme found in his numerous nude women sculptures.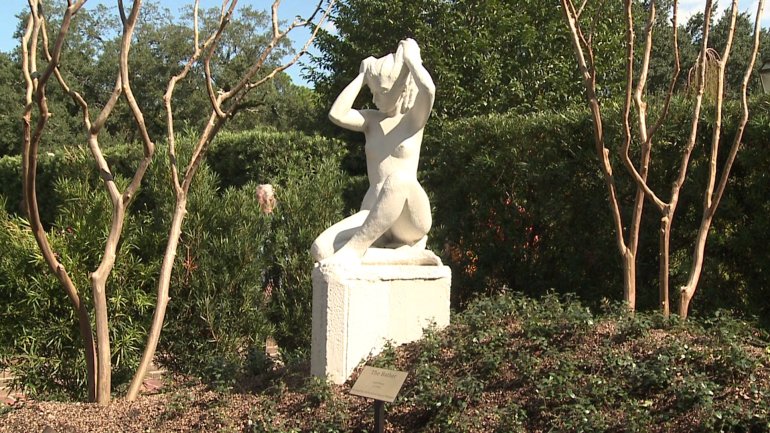 "I want people to understand that just because its nude that doesn't mean its lascivious," his daughter said.
This garden was made possible by The Helis Foundation.  The Helis Foundation was established and funded by the William Helis Family.   One of the mission's of the foundation is its Arts Funds which makes grants to sustain operations, to provide free admission to, and to acquire significant art works on behalf of major institutions within the Metropolitan New Orleans area.