This is an archived article and the information in the article may be outdated. Please look at the time stamp on the story to see when it was last updated.
NEW ORLEANS (WGNO) - It's an exciting time for fans of the gospel giant Mahalia Jackson, as a new CD of unreleased work just hit the market in the form of Moving On Up a Little Higher.
The work took a whopping 40 years to compile and dozens of sources, but we've got long-time producer Anthony Heilbut to thank for putting it all together.  His passion for Mahalia's work brought him to The New Orleans Historic Collection where some of the unreleased materials were being housed.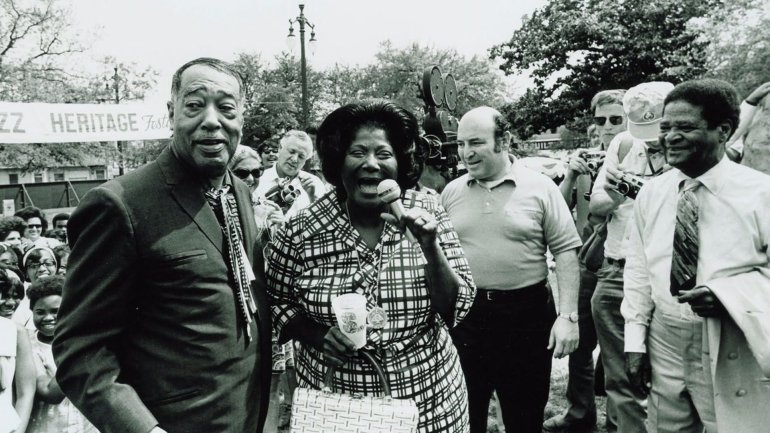 "She's the greatest gospel singer. That's her title and that's who she is," and that is how Rose Champagne described her aunt.
Champagne is president of the Jackson Family Residual Trust Corporation.
"My grandmother, Mama Duke, is who raised her," Champagne explained. "This is where she used to come when she came to town, and all the neighborhood people, the whole block would be full of people just to get a glance of her. It was very exciting during those times, Mahalia Jackson to come to New Orleans to see her folks."
Eric Seiferth, assistant curator at The Collection, said the Mahalia collection is part of a much larger group of papers of the Bill Russell Collection.
"It's about 42,000-plus items of New Orleans music, most focused on New Orleans jazz music, but he does have the Mahalia collection within that," Seiferth said.
Many of the recordings had to be restored from reel-to-reel tape and some without the accompaniment of a pianist, just the heavenly voice of Mahalia Jackson.
"There's some from her is a performance in Chicago at a high school," Seiferth says. "There are recordings of his at her house. He often was with her at her house when she rehearsed. He was a musician himself and sometimes rehearsed with her helping her with the melody as a violin player."
Mahalia loved her hometown and visited often.  She appeared at the first New Orleans Jazz and Heritage Festival in 1970, and she's buried here in Providence Park.
Her family is delighted at the release of the new material, but Champagne said she's having a tough time picking a favorite song.
"I've listened to her, and I heard it. I said, 'Oh, I love this song here. This is my favorite,' and then I continued listening, I said, 'Wait a minute! I like this one too.' There is no favorite for me. I love them all," Champagne said.
The CD Moving On Up a Little Higher is available on iTunes and Amazon.