This is an archived article and the information in the article may be outdated. Please look at the time stamp on the story to see when it was last updated.
CROWLEY, La. -- After 12 long years of testing, evolving, and improving this unique strain of aromatic Jasmine rice, the Louisiana State University Agriculture Center, with the help of senior rice breeder Dr. Steve Linscombe, felt they had finally developed a strain that could compete head on with the famous Thai Jasmine rice in aroma, texture, and taste.
In early 2009, Dr. Linscombe signaled Louisiana farmers that it was time for the new rice's first commercial harvest. Dr. Linscombe had been working closely with a group of New Orleans entrepreneurs who were willing to finance the harvest, milling, and marketing of this dynamic new variety of rice. Thanks to the vision of these entrepreneurs and the steadfast work of the LSU AgCenter, Jazzmen Rice has reached new heights in the marketplace.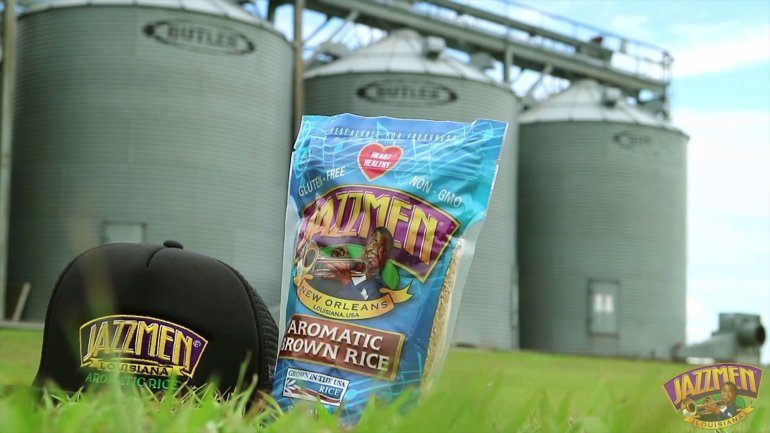 During 2008, a duo of New Orleans entrepreneurs learned of the new strain of rice being developed by the LSU AgCenter. They decided to explore bringing this innovative variety to market. Founders George Chin, and Andrew Wong, saw the huge potential American grown aromatic Jasmine rice has and acted on it. Investing in excess of $1,000,000 of their own venture capital, the two businessmen went about assembling all the business disciplines necessary to bring this product to market. From farming and milling to supply chain distribution logistics and marketing, Jazzmen Rice, L.L.C. is a constant whirlwind of activity; and all of this activity is doing wonders for New Orleans and the state of Louisiana. Jobs are being created in multiple industries. Not only is Jazzmen Rice great for the economy because it is creating jobs, but it has goals of slowing the importing of foreign aromatic Jasmine rice into the United States. This means the United States will send less money abroad and keep more dollars inside the United States.
An obvious motivating factor is price. Louisiana's rice industry has struggled to regain a footing after devastating hurricane seasons in 2005 and 2008. Traditional rice is more expensive to produce and while the price farmers are paid for it has strengthened -- particularly over the last several years -- the more exotic jasmine strain can fetch a premium.  The "Jazzman" variety yields up to three times as much grain per acre as the fragrant, nutty Thai strain, which grows too tall and flowers too late for U.S. farms.
Louisiana grows about 14 percent of the nation's rice -- the third-biggest crop behind Arkansas, where about half the nation's rice is grown, and California, which grows 20 percent.
For decades, America has imported more and more Jasmine Rice from Thailand, due to America's inability to produce its own credible variant of a soft, subtle, aromatic Jasmine rice. Over the last ten years, America's importing of Jasmine Rice has increased almost 100% to a staggering 500,000 tons a year. Experts project this incredible increase to rise by almost another 50% by 2018. America's ever-expanding desire for taste sensation continues to fuel the consumption of aromatic Jasmine rice. Now Americans have a domestic variety to choose.
The strength for America in its agricultural offerings moving forward, the duo behind Jazzmen Rice believes, is the relative purity of its environment. "The United States is getting to the point where there is not much to export except for the agriculture and seafood," said Wong. While foreign countries either have the advantage, or do not see the economic viability of importing consumer goods and manufactured products, Chin explained, "the United States still has the cleanest air, the most pure land, clean water — and other countries value that a great deal."
The icon of the brand, however, is weaved into the tapestry linked to New Orleans. The patron saint of the Big Easy, Louis Armstrong, is displayed prominently on the packaging — a playful wink to New Orleans' most famous jazz man as well as a way to show support the city's next generation of artists, via financial aid for the Louis Armstrong Education Foundation.
Since its inception, Jazzmen Rice can currently be found in most New Orleans restaurants, local grocery stores, and 48 states across the country, as well as in international markets like Vietnam, Hong Kong, and the Philippines — with plans for further global expansion well underway.
Dawn Vachon, National Sales and Marketing Director for Jazzmen Rice said, "Jazzmen Rice is more than just a product grown locally, and there's real sustainability built into our product. There's a strong synergy between this grain and our community. Jazzmen Rice cares as deeply for the culture of New Orleans as it does the landscape of Louisiana."
The grain is gluten-free and is free of any genetic modifications, and together with the LSU AgCenter the Jazzmen team makes large strides to protect the acreage that they work on.
Co-founder and President of Jazzmen Rice George Chin, recently said, "We're in an area where we have a different culture and the food culture is different. You have etouffee, gumbo, jambalaya. You don't see this kind of food in most of the country or even most of the world. So, we like our rice to follow a trail. You wanna get good etouffee? Pair it with this great Jazzmen rice. You wanna get good red beans and rice on a Monday? Pair it with Jazzmen Rice. That's how we see ourselves fitting into the community."