This is an archived article and the information in the article may be outdated. Please look at the time stamp on the story to see when it was last updated.
NEW ORLEANS – She's got a unique name and a style all her own, and she's making waves in the music business.
LBJ got a chance to get out on the water and learn all about Boyfriend, the New Orleans-based rapper, songwriter and performer known for her racy lyrics and donning granny panties and curlers in her hair.
Growing up in Nashville, she eventually made her way to New Orleans after college on the West Coast.
It's been a busy year for Boyfriend, performing both here and away at Jazzfest, SXSW, Bonaroo, and more.
Boyfriend tells us what her stage name means to her.
"Everything! I mean that word is so heavy," she explains. "It carries a lot of connotations with it that girlfriend doesn't. Like, you would never say, 'Me and my boyfriends are hanging out. 'Boyfriend' means something deeper. Yeah, there is a boyfriend."
On the water, she's pretty decent with a pole in her hands.  She's also a pretty darn good performer on stage.
As for her music style, Boyfriend calls it rap cabaret.
"It seemed most accurate to me,because in a cabaret you have variety, and you have performance," she says.
Yes, she's more than just a rapper, but her play on words is always clever.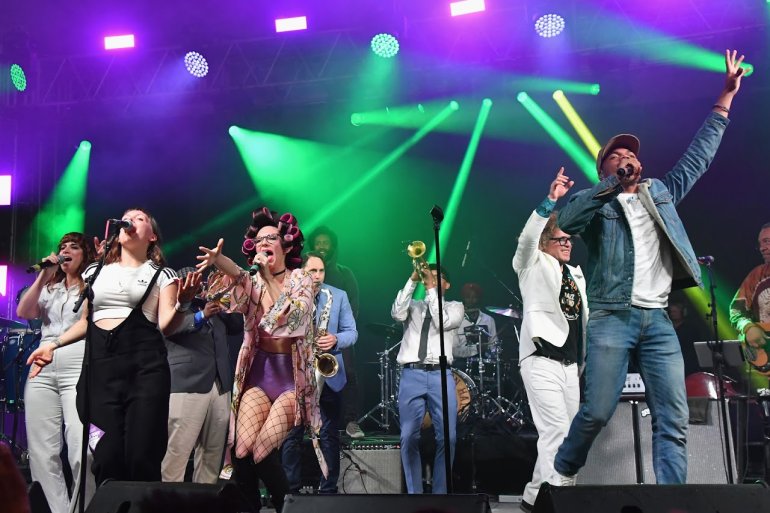 "In my most recent project I actually sing more than I rap," she says. "I like to use rap as a verb, instead of a noun … Rapper isn't totally accurate for me, but I do rap.  Are you a fisherman? But you fish. It's just one of the things that I do."
It's been a wild ride for the former school teacher, but for her the journey has been worth it.
"I think just feeling the momentum pick up and feeling the crowds get a little bit larger, because it can get to feel like a bit of a narcissistic endeavor. You know, like let me plan a photo shoot for pictures of me!"
Boyfriend's 5th Annual B-day Extravaganza is Friday, Sept. 1 at the Joy Theater. It's a free show featuring drag, burlesque, aerialists and surprise guests. Guests who arrive in curlers & lingerie get a special gift from Boyfriend.