This is an archived article and the information in the article may be outdated. Please look at the time stamp on the story to see when it was last updated.
NEW ORLEANS - Let's see what Test Kitchen Taylor is cooking up today!
It's National Pretzel Day and as Test Kitchen Taylor  says, "Any holiday that features carbs is a holiday I'll celebrate!" Her Beer, Bacon and Cheese Pretzel Dip and Homemade Pretzels were at hit and you can make it too!
Make sure to tag us @WGNO and Test Kitchen Taylor @taylorfeingold if you try these recipes!
Beer Bacon and Cheese Dip
6 to 8 ounces thick-cut bacon, diced
1 garlic clove, minced
2 1/2 tablespoons all-purpose flour
1/2 teaspoon dry ground mustard
8 ounces Abita Amber
8 ounces cream cheese
2 cups shredded sharp cheddar cheese
2 cups shredded Colby-jack cheese
1/4 teaspoon salt
1/4 teaspoon pepper
1 tablespoon your favorite hot sauce
Soft or hard pretzels for dipping
Heat a large saucepot over medium-high heat.
Add the bacon and cook until crispy, stirring often about 5 to 7 minutes.
Remove the bacon to a paper towel-lined plate to drain.
Discard all but 2 tablespoons of the bacon grease.
Add the garlic to the bacon grease. Cook stirring constantly, until fragrant.
In a small bowl stir together the flour and dry ground mustard. Add the flour to the pot and stir to combine. Cook for 1 minute.
Pour in the beer and stir. Cook for 2 minutes.
Add the cream cheese and cook until melted, stirring often to help break down the cheese.
Add the cheddar and Colby-jack cheeses. Stir to combine until the cheeses have melted and the sauce is thick and smooth about 5-8 minutes.
Season with salt and pepper to taste. Add the hot sauce and stir to combine.
Add the bacon into the dip.
Transfer to a serving bowl or a crock pot set on warm. Serve immediately with soft or hard pretzels.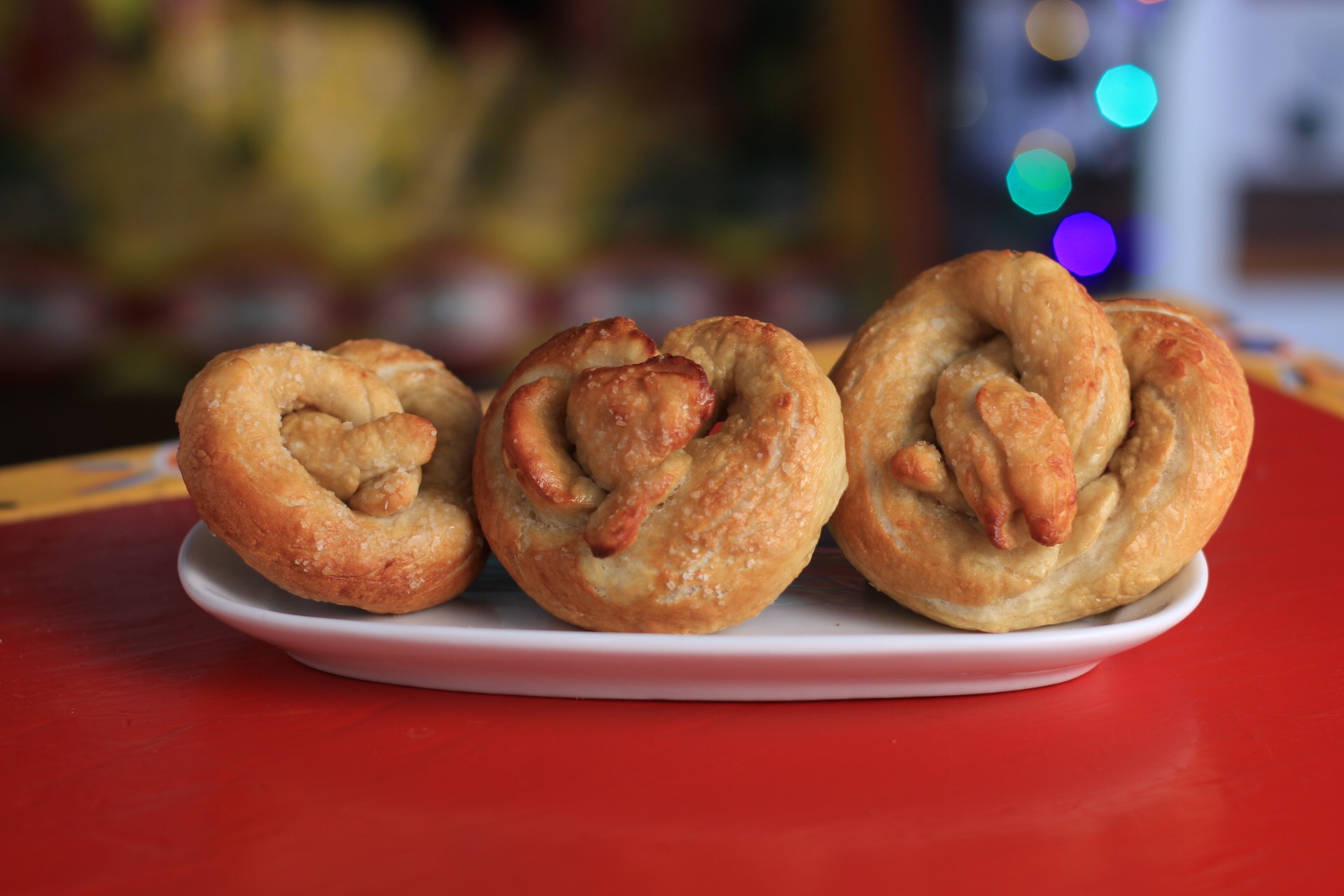 Taylor's Famous 45 Minute Soft Pretzels
1 and 1/2 cups warm water
1 packet active dry or instant yeast (2 and 1/4 teaspoons)
1 teaspoon salt
1 Tablespoon brown sugar
1 Tablespoon unsalted butter, melted and slightly cool (for dough)
2 Tablespoons unsalted butter, melted (for before and after oven)
3 and ¾ - 4 cups all-purpose flour, plus more for work surface
coarse sea salt for sprinkling
Baking Soda Bath
½ cup (120g) baking soda
9 cups (2,160ml) water
Whisk the yeast into warm water. After 1 minute, whisk in salt, brown sugar, and melted butter.
Slowly add 3 cups of flour, 1 cup at a time. Mix with a wooden spoon (or dough hook attached to stand mixer) until dough is thick.
Add 3/4 cup more flour until the dough is no longer sticky. If it is still sticky, add 1/4 - 1/2 cup more, as needed.
Poke the dough with your finger - if it bounces back, it is ready to knead.
Turn the dough out onto a floured surface. Knead the dough for 3 minutes and shape into a ball. Cover lightly with a towel and allow to rest for 10 minutes.
Preheat oven to 400°F. Line 2 baking sheets with parchment paper and set aside.
With a sharp knife or pizza cutter, cut dough into 8 equal pieces.
Roll the dough pieces into a thin rope. Take the ends and draw them together so the dough forms a circle. Twist the ends, then bring them towards yourself and press them down into a pretzel shape.
Bring baking soda and 9 cups of water to a boil in a large pot. Drop 1 pretzels into the boiling water for 20-30 seconds at a time.
Do not boil them for any longer, as they will get a metallic taste after 30 seconds.
Using a slotted spatula, lift the pretzel out of the water and allow as much of the excess water to drip off.
Place pretzel onto the prepared baking sheet. Sprinkle each with coarse sea salt. Repeat with remaining pretzels.
Brush with 1 tbsp butter.
Bake for 12-15 minutes or until golden brown.
Brush with the remaining 1 tbsp butter.
Do you have a recipe that you want Test Kitchen Taylor, Tamica and LBJ to try? Send it to us at twist@wgno.com!