This is an archived article and the information in the article may be outdated. Please look at the time stamp on the story to see when it was last updated.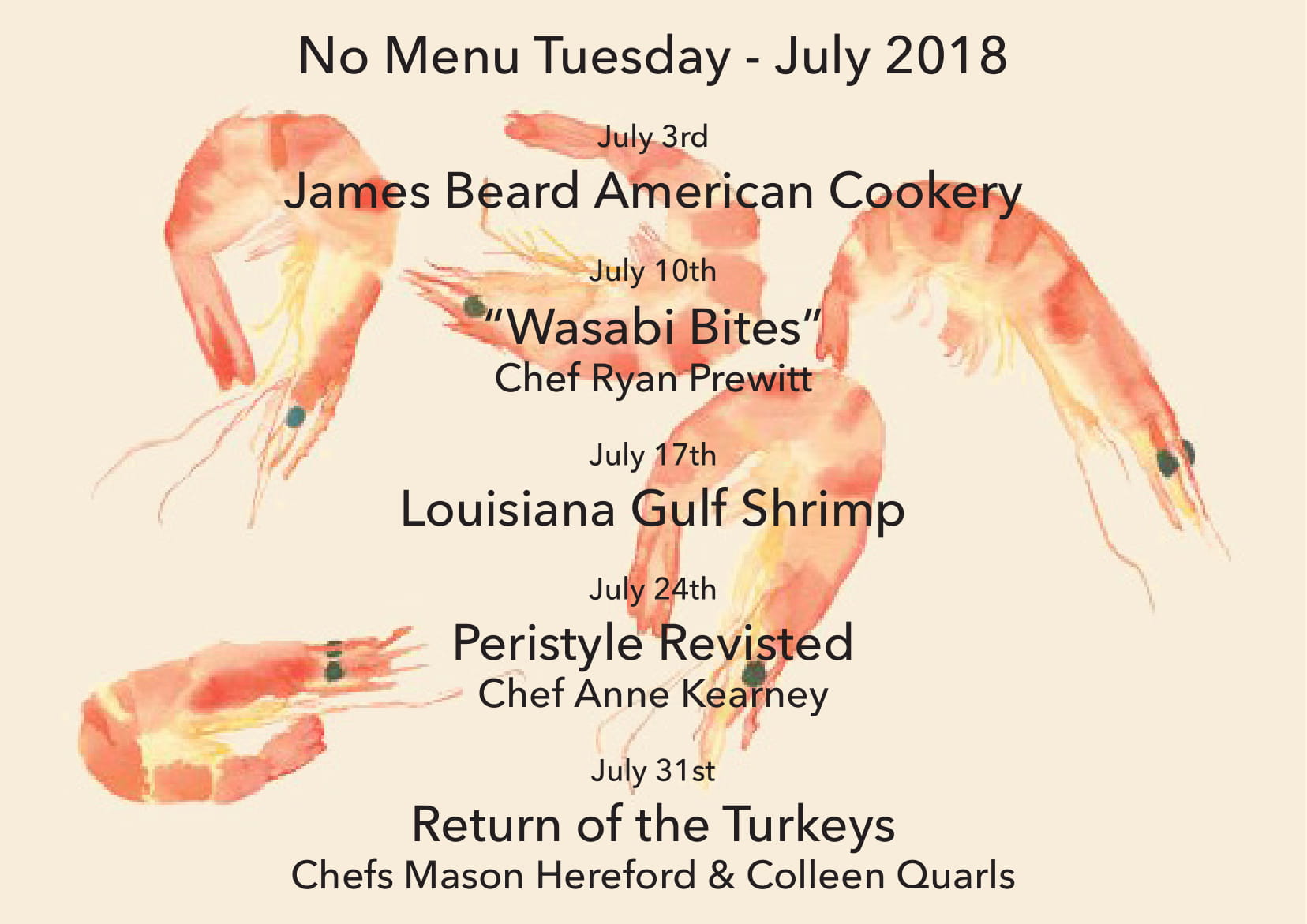 NEW ORLEANS – Coquette, located in the Irish Channel, will soon begin their unique and delicious Summer Dining Series, "No Menu Tuesday."
Chefs Kristen Essig and Michael Stoltzfus have announced the July themes for  "No Menu Tuesday" at Coquette, and they sound delicious. Mike and Kristen, alongside Chef de Cuisine Cesar Nunez, Sous Chef Phillip Cenac and Pastry Chef James Kubie will be offering a unique, one night only, five-course prix-fixe menu. The menus will be based on a changing weekly theme every Tuesday, July through September.
This unique concept was born in the summer of 2015. Chef Michael wanted to provide a creative platform for the Coquette team, and the low price ($45.00/per person, for a five-course meal) allows the restaurant to share their delightful tasting menu with more diners. 
"No Menu Tuesdays" in July will have the following themes:
July 3rd – James Beard American Cookery
Celebrating one of the most iconic men in American Cookery and America, the first dinner of the 2018 summer series will pull inspiration from James Beards American Cookery served with a Coquette twist.
July 10th – "Wasabi Bites"
Chef Ryan Prewitt of Peche will join the Coquette team to create a "90's" themed dinner. They say there may be bonus points if you come dressed as Winona Ryder or Ethan Hawke. 
July 17th
 – 
Single Ingredient Dinner- Louisiana Gulf Shrimp
Every course of this dinner, yes dessert too, will be made with Louisiana Gulf Shrimp.
July 24th
 – 
Peristyle Revisited
Chef Anne Kearney will join the team as they recreate a menu based on items from her beloved Peristyle restaurant.
July 31st – Return of the Turkeys
Chef Mason Hereford and Chef de Cuisine Colleen Quarls left Coquette to open the now nationally lauded, Turkey & the Wolf. Tonight both former Coquette veterans will join the rest of the team for a reunion. 
Which dinner sounds best to you? Test Kitchen Taylor is most looking forward to "Wasabi Bites." Hope to see you there!