This is an archived article and the information in the article may be outdated. Please look at the time stamp on the story to see when it was last updated.
NEW ORLEANS (WGNO) – You've most likely heard that a traditional southern New Year's dish includes black-eyed peas and collard greens! Twist reporter Kenny Lopez got schooled on this tradition from a grandma who recently won a reality show on the Food Network.
Anne Leonhard, a chef at the New Orleans School of Cooking was recently featured on the Food Network show, "Clash of the Grandmas" and she ended up winning first place.  Her prize was $10-thousand dollars.  Leonard is a grandmother to 5 kids.  One of them, Shelby passed away, so she decided to donate $5-thousand dollars to a mission in Haiti named in her granddaughter's honor, called "Shelby's Mission".
"I think Shelby was up there right next to God when I was on the show telling God to let me win, so I won," she said.
Anne is a Chef champion, and her winning recipes are proof.  For New Year's, she likes to make the traditional dishes of black-eyed peas and collard greens.
Here is the link to the recipes Anne demonstrated today: http://www.neworleansschoolofcooking.com/blog/new-years-recipes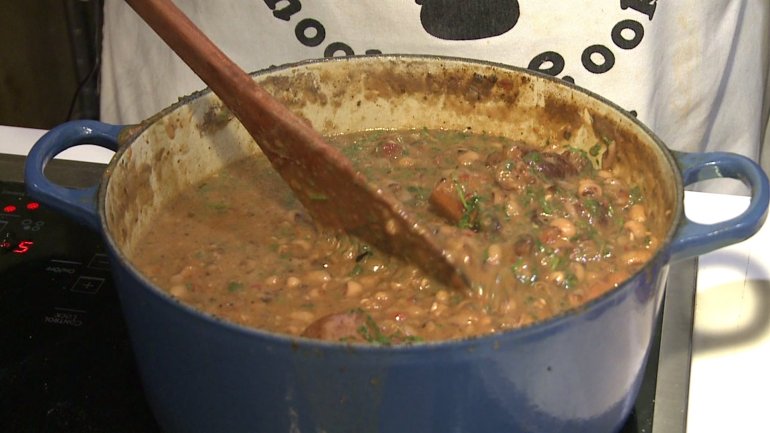 So why do we eat black-eyed peas and greens to ring in the new year?
"During the Civil War in December of 1864, all they left behind was silos and black-eyed peas.  When they left, all they had to eat was the black-eyed peas. The black-eyed peas originally came here to the South from West Africa," she said.
Stories passed on over the years reveal that the black-eyed peas are supposed to resemble coins.  The greens are supposed to represent the dollar bills and the cornbread is supposed to represent the gold. Anne said that by eating them, they are supposed to bring you prosperity for the new year.
This cook says it's very important not to skimp on the seasonings.
"Right before I finish cooking, I put in a blob of butter and a blob of lard. If you have health conscious friends don't tell them, ignorance really is bliss," she said.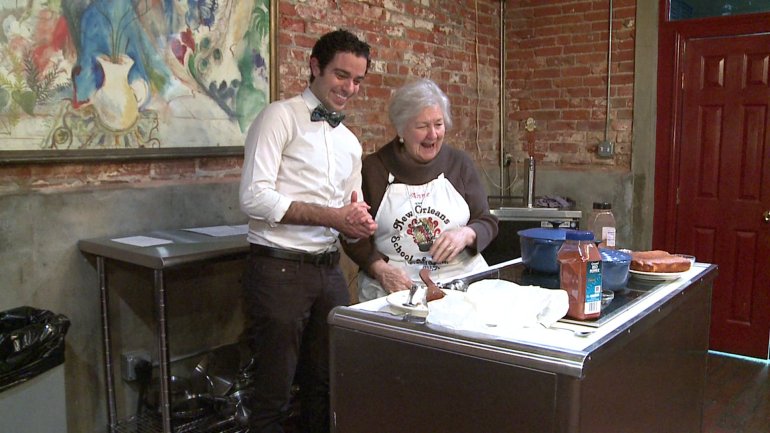 Anne likes to flavor the water when cooking the greens, and she likes to add in Minor's Ham Base, and various seasoning when she cooks.
Anne is currently writing a book with her friend and fellow New Orleans School of Cooking chef, Harriet.  The book is titled, "Across The Table".   The book is set to be released in the Spring.
Here is a link to the pre-sale of her and Harriet's book: http://store.nosoc.com/across-the-table/