This is an archived article and the information in the article may be outdated. Please look at the time stamp on the story to see when it was last updated.
You know, Carnival is the perfect time to celebrate and give in to your guilty pleasures. Heck, Rex even has a signature float dedicated to the Boeuf Gras (or fattened ox).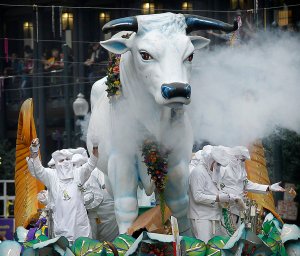 But once Fat Tuesday passes, it is time to tighten our belts, repent and give up some things. One of those concessions we make each Lenten season is meat. Friday's during lent are all about seafood in southeastern Louisiana. But before we abandon the red meat for more aquatic fare, we wanted to indulge in some of the area's best places for meat.
Our first stop on the Boeuf Gras tour is located right on the St. Charles Avenue parade route, Emeril's Delmonico. This iconic restaurant has been a New Orleans favorite since 1895. It's roots are classic creole eats, but Chef Anthony Scanio tells us that they are quite proud of their dry-aged steaks. Delmonico has quite the selection when it comes to steaks. You can have either a 6oz. petite filet, an 8 oz. shoulder filet, a 9 oz. filet, a 12 oz. N.Y. strip, and a 20oz bone-in ribeye. We tried the 20 oz. ribeye with fries and an appetizer of candied bacon. This steak is not for the meek. Chef Scanio cooked it to a perfect medium-rare and topped it with butter. The flavor and texture of this steak was outstanding. As we ate and discussed the ribeye, chef enlightened me to the fact that the steak's flavor has different qualities depending on each section. The flavor near the fatty tip is much different from the flavor near the bone. They are subtle differences, but differences that make enjoying this cut a true culinary adventure.
The steaks are served a la carte. You can pair them with one or more of Delmonico's great sides like roasted cauliflower, carmelized brussel sprouts, mushrooms bordelaise and more. Add one of the decadent desserts to the end of your meal and salute both the Boeuf Gras and carnival New Orleans style, that is before Ash Wednesday gets here.