This is an archived article and the information in the article may be outdated. Please look at the time stamp on the story to see when it was last updated.
NEW ORLEANS (WGNO)- When you think about a T-shirt, you usually think it's made out of cotton or maybe polyester.   A New Orleans-based athletic wear company makes T-shirts out of bamboo and is honored to partner with French Quarter Fest.
News with a Twist Reporter Kenny Lopez finds out the benefits of bamboo T-shirts at Tasc Performance, where they've been making these stylish, comfortable, and natural shirts since 2009.
Tasc Performance, an innovative active apparel company is changing the way we wear shirts.
"We make clothes out of bamboo and organic cotton,"  Brooks Young, Marketing Director for Tasc Performance said.
"Our CEO worked in the apparel industry and decided that we needed something else for the active person.  They wanted to try something different.  When people first here bamboo, they really don't know what that means.  It's really when they feel the fabric, that they can feel the difference right away,"  Young said.
This time of year—festival season, everyone's looking for a comfy and cool shirt.  This year the friendly folks over at French Quarter Fest recognized the benefits of bamboo and asked Tasc to make their official festival T-shirts.
"With UPF 50 you won't get sun burnt, and it doesn't stick to you when you sweat.  These shirts are very breathable and extremely comfortable.  Some people compare their feeling to whipped cream or a cloud.  It really is amazing how soft they are," he said.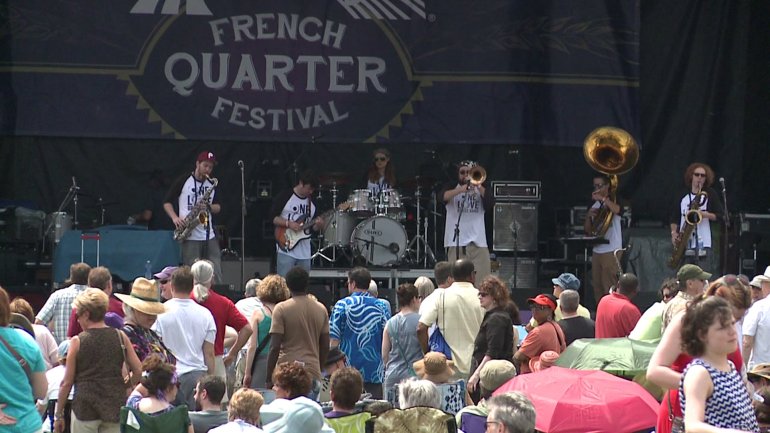 The main reason why someone would want to wear a bamboo-based shirt over another shirt is the fact that they are made with no chemicals.
"We're doing something different.  We are pioneering a different way of active apparel," he said.
The French Quarter Festival shirts will be sold throughout the fest which begins on Thursday, April 7th.
Tasc Performance also has a mobile unit which they take across the country for various races, festivals, and other events.
For more information on Tasc Performance, click HERE
For more information on French Quarter Festival, click HERE