This is an archived article and the information in the article may be outdated. Please look at the time stamp on the story to see when it was last updated.
NEW ORLEANS - It's COOLinary month, which means lunch under $20 and dinner under $39 at over 70 great restaurants around town. Here's what we're drinking at  Cafe Adelaide with our delicious meal.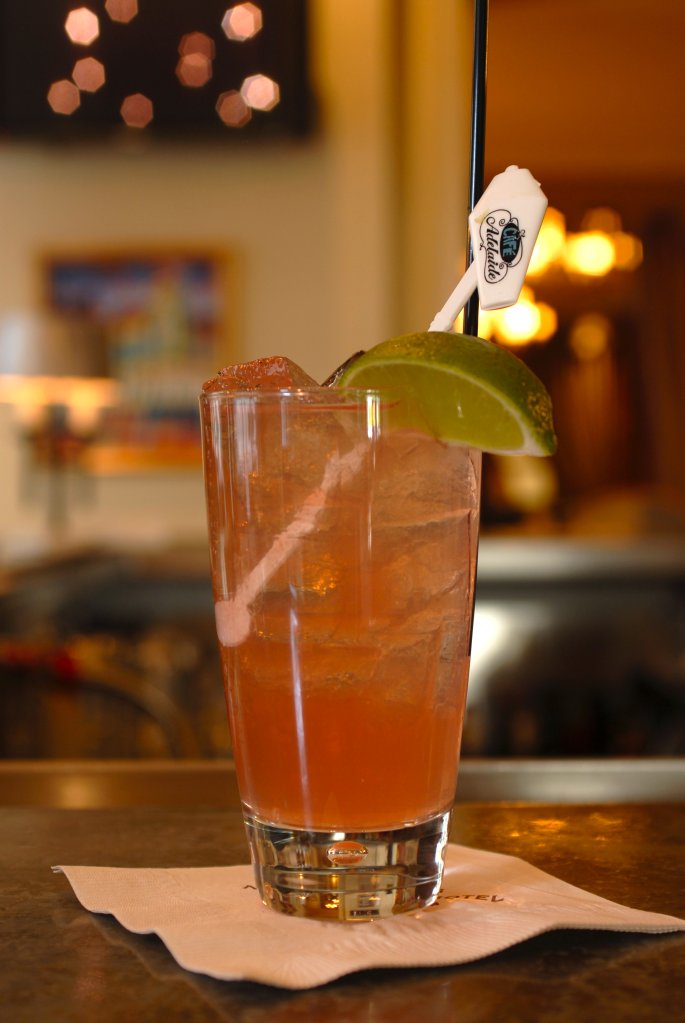 The Adelaide Swizzle is the namesake drink of Cafe Adelaide! It stars Rougaroux Full Moon dark rum, Peychaud's bitters, lime, soda and a secret ingredient...you can try to guess it, but they'll never tell.
Check out Cafe Adelaide's Menus for Coolinary New Orleans:
 First Course
choice of

Wild White Shrimp, Creole Tomatoes & Roasted Okra Gumbo
A New Orleans Gumbo made from a dark cast iron skillet roux, creole trinity and Louisiana hot sauce
 Commander's Turtle Soup
The original recipe, straight from Commander's kitchen
  Soup du Jour
Chef's seasonally inspired creation prepared in a heart healthy way
Downtown Chopped Salad
Romaine, olives, tomatoes, crispy chickpeas, pressed eggs & Parmesan with Spanish white anchovy-buttermilk dressing
  Blue Crab & Sweet Corn Veloute
Fire roasted sweet summer corn with toasted cayenne, Louisiana blue crab, marinated sweet chilis & pressed herbs
Shrimp & Tasso Corndogs
Wild white shrimp dipped in tasso corndog batter with 5-pepper jelly, pickled okra & Crystal hot sauce butter
Rougaroux Eggs
Hen's eggs stuffed with whipped smoky cochon de lait, Crystal pulp, Andouille & cracklin' dust
Second Course
choice of
 Garlic & Red Chili Crusted Cocodrie Shrimp
Wild white shrimp flambéed in local sugarcane rum with "back bone" vegetables, Jazzman rice and a vibrant sweet-spicy coconut curry shrimp head broth
$34
Cajun Surf n' Turf
Herb crusted 10 Oz. bone-in pork chop with garlic & lemon marinated blue crab, tiny tomatoes and three mustard glaze
$37
Veal Barbacoa Tamale
BBQ'd and slow braised veal heads with blistered sweet chilis and avocado-corn salsa served "shucked" in a grilled corn husk with tamale spoon grits
$38
  Black Skillet Seared Gulf Fish
A light & healthy dish of grilled summer asparagus, Louisiana soybeans, quinoa, garlic wilted spinach, lemon and roasted shallot vinaigrette
$36
Third Course
choice of
White Chocolate Biscuit Pudding
Abita root beer, New Roads pecans & white chocolate ice cream
Frosting "Stuffed" Carrot Cake
Stuffed with whipped cream cheese and New Roads pecans over carrot coulis and topped with white chocolate ganache
Madagascar Vanilla Bean Crème Brûlée
With fresh seasonal berries
German Chocolate Cajun Brownie
Coconut ganache, chocolate crumble, coconut sorbet & pecans
Creole Cream Cheese Cheesecake
Spiced Steen's sugarcane syrup and blackberries