This is an archived article and the information in the article may be outdated. Please look at the time stamp on the story to see when it was last updated.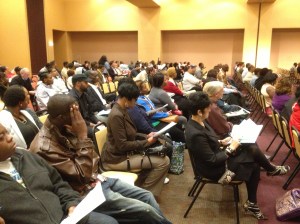 Employment opportunities are on the horizon in the city of New Orleans.
Two major retailers have announced hundreds of available jobs; and its gripped the attention of people looking for work.
"We're talking about jobs for citizens as well as for local businesses," said Economic Development Adviser Aimee Quirk.
Wal-Mart hosted an informational meeting Wednesday for subcontractors, and suppliers.
Its rival Costo held a similar meeting for potential employees.
"Retail has been one of our top priorities since coming into office and we see a lot of retail projects coming to fruition," Quirk said.
The Wal-Mart Supercenter will be built in the old Gentilly Woods Shopping Center.
Construction of the 12-acres site, located on Chef Menteur Highway will start late this year.
That's why the world's largest retailer has partnered with the city, to host an informational meeting for disadvantaged small businesses.
Contractors like Mark Phillips and Kendall Washington are both looking for opportunity; for their company and the people they employee.
"A job like that would give them work for at least six months," said Phillips with Gulf State Constructors.
"It's not only an opportunity for us to come in and bid on the termite control portion, but to also get our name out there and meet the right people; and hopefully seek some opportunity in pest control with Wal-Mart as well," Safe Spot Pest Control's Kendall Washington said.
Construction for Costco is already underway at the Carrollton Shopping Plaza in Mid-City.
"I live in the area and it sounds like a good job opportunity for me," Desiree Horton said.
Because the retail giant is slated to open late summer, hundreds of hopefuls are learning how best to prepare for the job application process that begins soon.
"I'm going home to polish up my resume so that I can be a potential candidate for those 150 positions they have available," Horton said.
New Orleans economic development experts say each of the retail projects will foster new commercial development in both neighborhoods.